KSOM MBA KIITEE Management Exam 2021
You can now ask your questions about this Entrance Exam.
Please go to the bottom of this page.
Organisation : KSOM
Admission : MBA Admission 2021-23
Exam Name : KIITEE Management 2021
Applicable For : Bachelor Degree Holders
Last Date : January 13, 2021
Website : https://ksom.ac.in/programs/mba-full-time/
KSOM KIITEE Exam
KIITEE Management – 2021 is KSOM's own National Level Entrance Examination to be conducted across 15 cities in India. It's a computer-based test. Based on the scores obtained in the Examination, candidates will be called for GD/PI.

The exam is a common examination for the following two programmes: MBA at KIIT School of Management, and MBA (Rural Management) at KIIT School of Rural Management. You can find more information on the exam, fees etc. by downloading the KIITEE Management Bulletin
Eligibility
The candidate must be a graduate in any discipline with 50% aggregate marks from any university incorporated by an Act of the Central or State legislature in India or other educational institutions established by an Act of Parliament or declared to be deemed as a University under Section 3 of UGC Act, 1956, or possess an equivalent qualification recognized by the Ministry of HRD, Government of India.
The candidate must have 50% aggregate marks (or equivalent CGPA) in the 10th and 12th board examinations. Candidates those who are awarded CGPA or grades in place of marks, their CGPA will be converted into equivalent marks based on the equivalence certified by the university/institution/board from where they obtained their degree/certificate.
In absence of any instruction from the university, equivalence would be established by dividing obtained CGPA with the maximum CGPA and multiplying the fraction so obtained by 100.The candidate also requires to have a valid score of any national entrance examination for MBA or PGDM (e.g., CAT, XAT, CMAT, MAT, including KIITEE Management, 2021, etc).
Candidates appearing for the final examination for the Bachelor's degree (or equivalent examination) and expected to complete all the requirements for obtaining the Bachelor's degree by 30th June, 2021 can also apply, subject to submission of all the required documents to that effect by 30th September, 2021. Failing to submit the requisite documents in time will entitle a student to withdraw from the programme.
Foreign/NRI candidates will have the above eligibility for applying for the MBA programme and they are required to submit the filled-up application form along with the requisite documents and application fee of US $50. They will be considered for admission process on the basis of their valid GMAT scores (appeared in year 2020).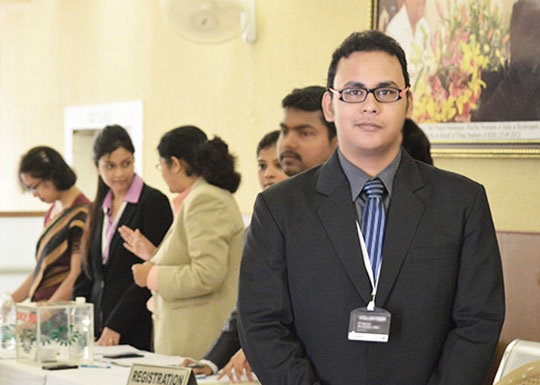 Selection Process
Candidates will be shortlisted on the basis of their KIITEE MGT/CAT/XAT/CMAT/MAT/GMAT Scores for appearing in the Group Discussion (GD) and Personal Interview (PI). The GD&PI will be conducted at New Delhi, Bangalore, Mumbai, Kolkata, Jamshedpur and Bhubaneswar.
The final selection will be based on Entrance score, career marks and performance in GD&PI. Successful candidates will be intimated of their final selection through admission offer letter. The selected candidates will confirm and accept the admission offer with terms and conditions for taking admission to the programme and submit the acceptance letter in its prescribed format within the given time.
How To Apply?
Option 1: Online Application
Apply online Fill up application form & pay application fee online
Apply Online : https://ksom.ac.in/programs/mba-full-time/apply-to-mba/
Option 2: Offline Application
Download Application form, fill up & submit along with application fee of Rs.1250/- through DD
Instructions
Option 1:
Candidates applying through Online Mode would be required to submit copies of their mark sheets and other supporting documents at a later stage, as will be instructed by the institution. Payment can be done through credit card/bank transfer etc., as instructed / supported at the online payment site itself.
Option 2:
** Candidates applying through Option 2 need to make a DD of Rs. 1250/- drawn in favour of "KIIT School of Management", payable at Bhubaneswar. The DD along with the filled in and signed application form needs to be sent to "Prof-in-Charge, Admissions, KIIT School of Management, Campus – 7, KIIT, Bhubaneswar – 751024".
** Name and Address of the candidate needs to be mentioned on the reverse of the Demand Draft.
** Candidates should retain photocopies of the DD and the application form submitted for future reference.
Documents Required
** High School Certificate and mark sheet.
** +2 / HSC Certificate and Mark sheet.
** Graduation (B.A., B. Com, B.Sc, Engineering etc.) Certificate and Mark sheet.
** College leaving Certificate.
** Migration Certificate
** Conduct Certificate
** KIITEE MGT/CMAT/MAT/CAT/XAT/GMAT/ATMA Score card
** Caste certificate, if applicable
** Physically handicapped certificate, if applicable
Important Dates
** Last Date of Receiving Completed Forms: January 13, 2021
** Dates of Entrance Exam: January 16-18, 2021
** Publication of Result: January 23, 2021