IITGN COGS M.Sc Admission Entrance Test 2021 : IIT Gandhinagar
Organisation : Centre for Cognitive and Brain Sciences, IIT Gandhinagar
Exam Name : M.Sc Admission Entrance Test 2021
Applicable For : Any Bachelor's Degree
Last Date : February 10, 2021
Website : https://cogs.iitgn.ac.in/
Want to comment on this post?

Go to bottom of this page.
IITGN COGS M.Sc Admission
Admission to MSc Program is offered on the basis of entrance test and interview. The Institute will invite a limited number of candidates for a written test and interview based on the academic records and aptitude for cognitive science.

Eligibility Criteria
Students who have a Bachelor's degree (e.g. B.A., B.Sc., B.Tech, BCom, MBBS) in any discipline with a minimum of 55% (5.5 CGPA for students with letter grades/CGPA) aggregate marks for General/OBC category candidates and at least 50% (5.0 CGPA for students with letter grades/CGPA) aggregate marks for SC, ST and PD category candidates in the qualifying degree, are eligible to apply for admission to the Master's program in Cognitive Science. Students who would be completing Bachelor's degree in the academic year 2020-2021 are also eligible to apply.
The short-listing of the applications is based on the overall credentials (Marks in the qualifying examinations, academic achievements and aptitude for cognitive science. The eligibility criteria mentioned above is minimum. The committee may use higher cut-off levels for shortlisting.
Fees
Please visit Fee structure advisory to know more about IIT Gandhinagar fee structure
Financial Support
Eligible candidates admitted to MSc Cognitive Science program will receive a monthly scholarship of Rs. 5,000/-. The stipend support will be renewed per semester subject to a student's continued satisfactory progress in the program.
Travel Scholarships
Institute encourages MSc students to present their research work at national and international conferences, and provides travel scholarships of up to Rs. 60000/- to such students.
Hostel Facility
All students admitted to MSc Cognitive Science is eligible for hostel accommodation on a sharing basis.
Application Procedure
All applications must be submitted online. You NEED NOT send the hard copy of the application form. However, you need to furnish hardcopy of the application form with photograph and all the documentary evidence in original (testimonials, certificates, publications, work experience and research/professional experience) at the time of interview. Incomplete applications will be rejected. There is NO application fee.
Exam Details
** The written test will consist of comprehension type questions based on given passages, and statistical aptitude.
** There is no prescribed syllabus of any subject for the written test.
** The final selection will be based on all of above, viz., academic records, aptitude for cognitive science, written test and interview.
** Test and interview will be held online.
** The interview will primarily test your aptitude for Cognitive science and your understanding of subjects studied at undergraduate level.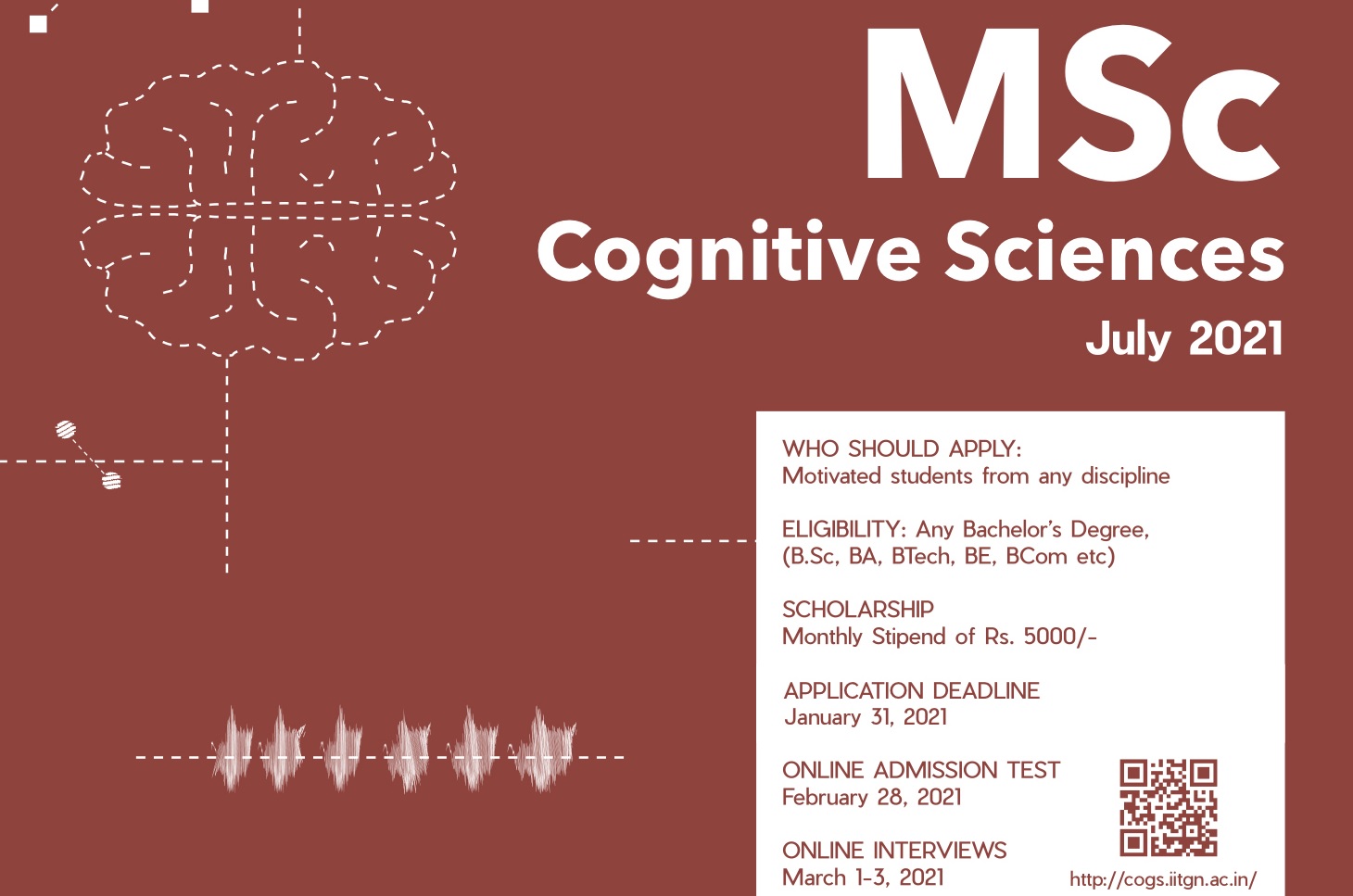 Admission FAQs
How do I download my application?
You can download and check your submitted application form by following the steps given below:
** Login into admissions.iitgn.ac.in/ and click on PG National Application.
** Here, on the left panel, you will find the "Manage Application" link
** Click on this link, it will redirect you to the application list page. You can see your submitted application on the list. Click on Download to have your submitted application.
Is there a syllabus for the entrance test?
There is no syllabus for the entrance test, however a basic understanding of cognitive science would be useful.
Can I make any sorts of corrections after submission? (Complete name change, date of birth).
No. Corrections cannot be made after submission. You may submit another application form with the correct details.
I have submitted multiple applications due to portal error. Which application shall be considered?
If you have submitted multiple applications, we will consider the most recent application only.
Can a GATE qualified candidate avail GATE scholarship during MSc Cognitive Science?
No. You will receive Rs 5000 as scholarship.
My Bachelor's marks are < 55%, but my Masters > 55%: Can I apply?
The minimum bachelor's score has to be 55% or above.
Contact
For any more queries please write to cogs@iitgn.ac.in