sche.ap.gov.in : APEAMCET 2021 Engineering, Agriculture and Medical Common Entrance Test Andhra Pradesh
Organisation : Jawaharlal Nehru Technological University, Kakinada
Exam Name : APEAMCET 2021 Engineering, Agriculture and Medical Common Entrance Test
Applicable States/UTs : Andhra Pradesh
Last Date : 25-07-2021 (without late fee)
Website : https://sche.ap.gov.in/EAPCET/EapcetHomepages/Home.aspx
Want to comment on this post?

Go to bottom of this page.
AP EAMCET Test
Engineering, Agriculture and Pharmacy Common Entrance Test (EAPCET) is conducted by Jawaharlal Nehru Technological University Kakinada on behalf of APSCHE. This examination is the prerequisite for admission into various professional courses offered in University/ Private Colleges in the state of Andhra Pradesh.

Courses
** Engineering, Bio-Technology, B.Tech (Dairy Technology), B.Tech (Agri. Engg), B.Tech (Food Science and Technology)
** B.Sc. ( Ag)/ B.Sc. ( Hort) / B.V.Sc. & A.H /B.F.Sc.
** B.Pharmcy and Pharma. D.
How To Apply?
Step – 1: Fee Payment
Step – 2 : Know your Payment Status
Step – 3 : Fill Application (only after Fee Payment)
Step – 4 : Know your Registration Numbernew
Step – 5 : Print Application Form (only after Submitting Application Form)
Apply Online : https://sche.ap.gov.in/EAPCET/Eapcet/EAPCET_HomePage.aspx
Note :
Use Details Provided in the Payment Page for All Subsequent Steps. In case your account is debited and the website gets disconnected before payment receipt generation, kindly check your Payment Status using Know Your Payment Status option by providing your details.
If you get message "Payment Details Not Found" , candidate is requested to go for a fresh payment and the amount for the failure transaction will be refunded to their debited bank account in 7 to 10 working days.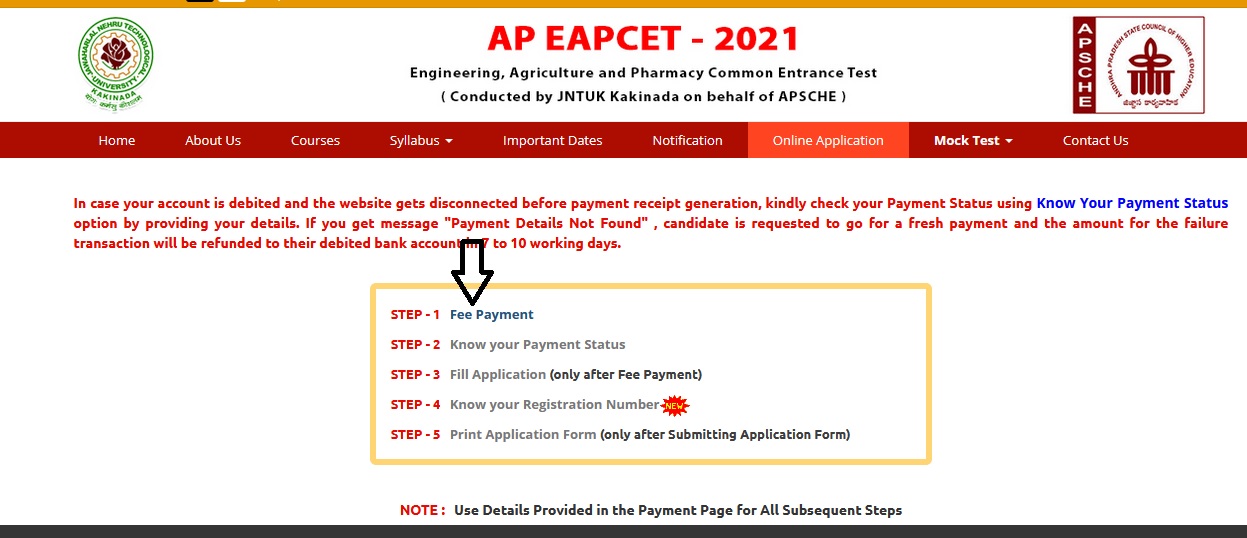 Important Instructions
1) The Candidates who wish to apply for APEAPCET-2021are requested to fill the particulars carefully in the ONLINE APPLICATION FORM. The required information should be collected from the relevant documents.
2) The Candidates are requested to check the filled in particulars before pressing SUBMIT button during online application process.
3) After submission of ONLINE APPLICATION FORM, if any corrections are to be incorporated, candidate has to see the corrections link in Homepage of https://sche.ap.gov.in/eapcet
4) To fill the required details in ONLINE APPLICATION FORM, the following documents may be referred
5) Other Information required for filling Online Application a) Recent passport size digital color photograph (file size less than 30 KB and ".jpg" file format) of candidate for uploading (whose photograph is not available in Intermediate databases)
6) It is advised to visit your allotted Examination Center well before so that you can take examination tension –free.
7) The candidate will not be allowed to take the examination even if late by 1minute.
8) The candidate does not have option of choosing specific date / session to appear for the AP EAPCET-2021 entrance examination. This information is known to him / her only after downloading Hall Ticket. For any reason if the candidate fails to appear in the given slot, he / she is treated as absent.
9) The candidate has to submit the "FILLED IN ONLINE APPLICATION FORM" to the invigilator in the Examination Hall on the day of the AP EAPCET-2021 exam. Also, affix a recent color photograph (3.5cms x 3.5cms) in the box provided (Bottom –Left side) on the FILLED IN ONLINE APPLICATION FORM and get it attested by a Gazetted Officer / Principal of the college where studied.
Important Dates
Activity

Date & Time

Notification of AP EAPCET – 2021
25-06-2021
Commencement of Submission of Online application forms
26-06-2021
Last date for submission of online applications without late fee
25-07-2021
Last date for submission of online applications with late fee of Rs. 500/-
05-08-2021
Correction of online application data already submitted by the candidate
Last date for submission of online applications with late fee of Rs. 1000/-
10-08-2021
Last date for receipt of online applications with late fee of Rs. 5000/-
16-08-2021
Downloading of Hall-tickets from the website https://sche.ap.gov.in/eapcet
12-08-2021
Last date for receipt of applications with late fee of Rs. 10000/-
18-08-2021
Date of AP EAPCET Examination (Engineering)

19-08-2021 to 25-08-2021

09.00 AM to 12.00 PM

03.00 PM to 06.00 PM

Time of Engineering Examination
Dates of AP EAPCET Examination (Agriculture & Pharmacy)
Time of Agriculture Examination
Declaration of Preliminary Key (Engineering)
Declaration of Preliminary Key (Agriculture and Pharmacy)
Last Date for receiving of objections on Preliminary Key
Declaration of Results
Contact Details
Call : 0884-2340535 (O)/ 0884-2356255 (O)
E-Mail : helpdeskapeapcet2021@gmail.com