Indian Institute Of Technology Joint Admission Test JAM For Masters 2023 : jam.iitg.ac.in
Organisation : Indian Institute of Technology Guwahati
Exam Name : Joint Admission Test JAM
Last Date : October 11, 2022
Website : https://jam.iitg.ac.in
Want to comment on this post?

Go to bottom of this page.
What Is Joint Admission Test JAM?
Indian Institute of Technology Guwahati is the Organizing Institute for JAM 2023. JAM 2023 is open to all nationals (Indian/Foreign) and there is no age restriction. Joint Admission test for Masters (JAM) has been established as a benchmark for the undergraduate level science education. The objective of JAM is to provide admissions to Post-Bachelor's Degree Programmes and to consolidate Science as a career option for bright students across the country.
Related / Similar Exam : NEIGRIHMS Counseling & Admission PG (MD/MS) Course 2022-2023

Eligibility Criteria For Joint Admission Test JAM
** Candidates who qualify in JAM 2023 must fulfill the following Eligibility Requirements (ERs) for admissions to IITs.
** Candidates should have passed an undergraduate degree or should be currently studying in their final year of undergraduate programme. Proof of having passed the undergraduate degree should be submitted by September 1, 2023.
** Candidates promoted without a marksheet should produce a certificate stating the subjects studied in that semester/year duly signed by the Head of the Institute.
** Foreign nationals with Indian degree are eligible to apply, subject to policy of the Admitting Institute.
** At the time of admission, all admitted candidates will have to submit a Physical Fitness certificate from a registered medical practitioner in the prescribed form. The admitted candidates may also have to undergo a Physical Fitness test by a medical board constituted by the Admitting Institute. Admission is liable to be cancelled if a candidate is found physically unfit to pursue their chosen course of study.
How To Apply For Joint Admission Test JAM?
To apply for Joint Admission Test JAM follow the below steps,
Steps :
Step-1 : Go to the above link
Step-2 : Click on the button "JOAPS 2023 : Candidate Portal"
Step-3 : Click the "New User? Click here to Register" button
Step-4 : Candidates have to first register on JOAPS website, by providing their name, a valid e-mail address, an active mobile number and setting a password
Step-5 : Upon successful registration, candidate's Enrolment ID and OTP will be sent to the e-mail address and mobile number provided by the candidate.
Step-6 : The candidate needs to use this Enrolment ID or e-mail address along with the password for submitting the application.
Step-7 : Candidates are advised to keep the Enrolment ID and the password safe and confidential.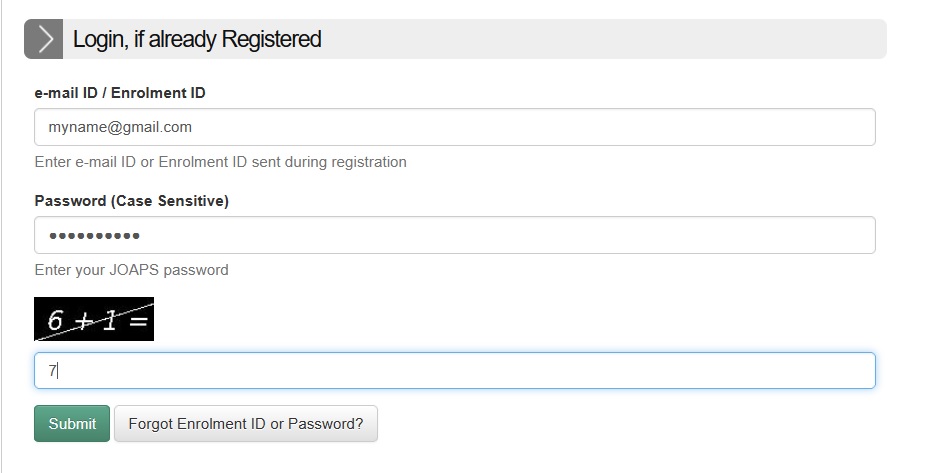 Data Requirement For Joint Admission Test JAM
** Personal information (name, date of birth, personal mobile number, parent's/guardian's name, parent's/ guardian's mobile number, etc.)
** Name of the candidate in the application form must exactly be the same as per the qualifying degree certificate.
** JAM 2023 Scorecard will be issued as per the name entered in the application form.
** Prefix/title such as Mr/Shri/Dr/Ms/Mrs/Smt, etc. should NOT be used.
** Address for communication including PIN code
** Details of Eligibility degree
** Name and address with PIN code of the College/Institute/University
** Choice of JAM paper(s)
** Choice of JAM Examination Cities
** High-quality image of the candidate's photograph and signature conforming to the specifications
** Scanned copy of the Category (SC/ST) Certificate (if applicable)
** Scanned copy of Physical Disability Certificate (if applicable) or Unique Disability Identification (UDID) certificate
** Details of the Photo Identity Document (ID). This ID, in original, should be carried by the candidate to the examination center.
** Candidate can specify any one of the following Photo ID: Aadhaar ID, Driving License, PAN Card, Passport, or Voter ID
** Net-banking / debit card / credit card / UPI details for fee payment JOAPS allows the candidate to enter the data, save a partially filled form, logout and resume filling by logging in again.
** The JOAPS portal is self-explanatory and user-friendly.
** The application fee will be automatically determined based on the category, gender, and number of Test Papers that have been opted by the candidate.
General Information Of Joint Admission Test JAM
a) Candidates seeking admission to select postgraduate programmes for the academic year 2023-24 must appear in JAM 2023 Examination. There is no age restriction.
b) JAM 2023 Examination will be held on February 12, 2023 (Sunday).
c) JAM 2023 Examination will be conducted as a Computer Based Test in SEVEN Test Papers, namely, Biotechnology, Chemistry, Economics, Geology, Mathematics, Mathematical Statistics, and Physics. The syllabi are given in Annexure I.
d) To apply for admission to a desired programme, a candidate is required to qualify in the relevant Test Paper, satisfy the Eligibility Requirements (ERs) and Minimum Educational Qualifications (MEQs) of the respective Academic Programme and any other requirements of the Admitting Institute.
e) The candidates who have either completed or will be appearing in the final examination of their qualifying degree in 2023 are also eligible to appear in JAM 2023.
By qualifying in JAM 2023, candidates can apply for admission subject to the conditions that:
(a) all parts of their undergraduate programme shall be completed by the date of registration of the Admitting Institute, and
(b) proof of having passed the qualifying degree with required eligibility, as specified by the Admitting Institute, should be submitted by September 1, 2023.
f) Admission shall be given as per All India Rank (AIR) in each Test Paper of JAM 2023, reservation policy of Government of India, and the availability of seats.
g) JAM 2023 is open to all nationals (Indian/Foreign). For admission, foreign nationals are required to satisfy the rules and regulations of the Admitting Institute pertaining to foreign students.
What Are The Important Dates Of Joint Admission Test JAM?
Commencement of ONLINE Application on JAM 2023 Website – September 7, 2022 (Wednesday)
Last Date for Submission of Online Application – October 11, 2022(Tuesday)
Availability of JAM 2023 Admit Cards for download – January 10, 2023 (Tuesday)
Date of JAM 2023 Examination – February 12, 2023(Sunday)
Declaration of JAM 2023 Results – March 22, 2023(Wednesday)