IIFT MBA (IB) 2023 – 25 Entrance Exam : Indian Institute of Foreign Trade
Organisation : Indian Institute of Foreign Trade IIFT
Admission Name : IIFT Entrance Exam MBA (IB) 2023
Applicable For : Bachelor's degree of minimum 3 years
Last Date For National Students : 24th November 2022, 5 PM
Entrance Exam Date : 18th December 2022
Website : https://www.iift.ac.in
Want to comment on this post?

Go to bottom of this page.
What Is IIFT MBA (IB) Exam?
MBA (International Business), flagship programme of IIFT, is a six-trimester general management programme with a focus on International Business for developing a competent cadre of business executives to meet the country's growing requirements for trained personnel in the field of International Business Management. NTA will be conducting the entrance exam for admission to the MBA(IB) of IIFT for 2023-25.
Related / Similar Exam : XLRI Xavier Aptitude Test (XAT) 2023
Eligibility Criteria For IIFT MBA (IB) Exam
IIFT MBA (IB) Exam Eligibility Criteria :
** Bachelor's degree of minimum 3 years' duration in any discipline with minimum 50% marks [45% in case the candidates belong to the Scheduled Caste (SC), Scheduled Tribe (ST), and Persons with Disability (PWD) categories].
** Candidates appearing for a qualifying examination can also apply subject to submission of proof of requisite qualification by 7th October2023.
** There is no age limit.
How To Apply For IIFT MBA (IB) Exam?
To Apply For IIFT MBA (IB) Exam follow the below steps,
Steps :
Step-1 : Apply online through NTA website – https://iift.nta.nic.in/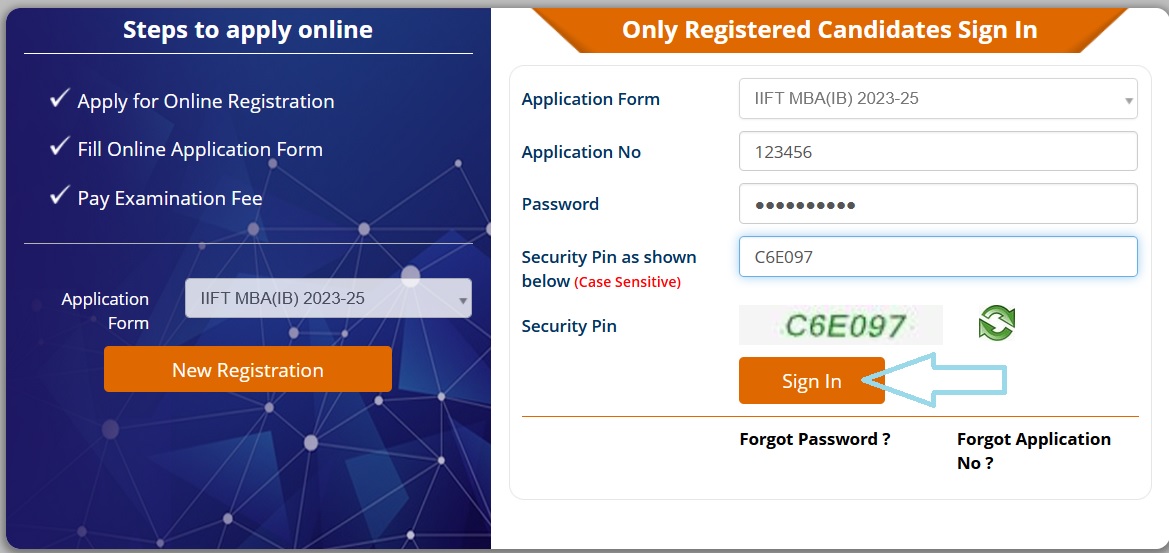 Step-2 : In Candidate Activity click on the link IIFT MBA 2023-25 Registration
Step-3 : Apply for Online Registration
Step-4 : Fill Online Application Form
Step-5 : Pay Examination Fee
IIFT MBA (IB) Exam Payment Of Fees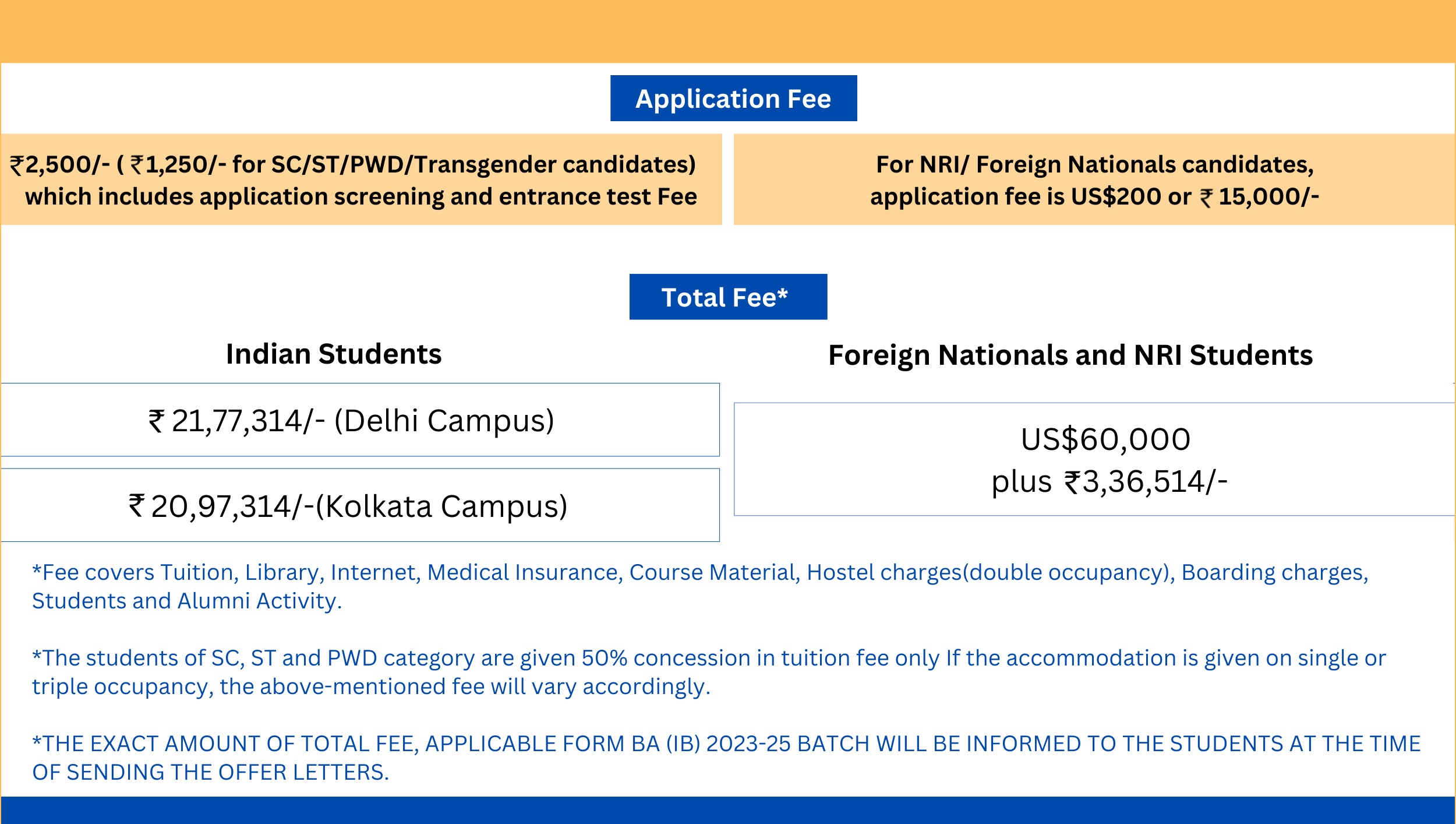 IIFT MBA (IB) Exam Selection Criteria
The admission to IIFT MBA (IB)- Full Time 2023-25 in addition to IIFT's Written Examination scores, Written Ability Test (WAT), Group Discussion (GD)/Extempore and Personal Interview (PI) scores incorporates Academic Consistency, Academic Diversity, Gender Diversity and Work Experience. The process will be carried out in two stages as follows:
Stage 1: (Short listing):
** The short listing of candidates for WAT-GD/Extempore-PI will be done on the basis of IIFT entrance exam percentiles including sectional cut offs. The minimum cut-off percentile is decided based on the number of candidates to be shortlisted as per the availability of seats.
** The cut-off marks for female candidates across all categories are 2 less than the actual cut-off in line with IIFT's policy of gender diversity.
** In addition to the above stated criterion, Marks obtained in X, and XII, will be considered. To ensure balance in class composition at IIFT, upto 5 points may be awarded to non engineers.
** Table-1 summarizes the criteria for shortlisting candidates for Stage-I at IIFT.
Table 1: Criteria for Shortlisting Candidates for Stage-I at IIFT
Parameters Scores
IIFT Score 73
Marks obtained in Class X* 10
Marks obtained in Class XII* 10
Academic Diversity Non Engg. = 5; Engg. = 0**
Gender Diversity (M=0; F=2) 2
Total Score 100
** Calculation of rating scores for Marks obtained in X, XII are presented in Appendix-I.
** As per the streams list in Appendix-I
Stage 2: (WAT-GD/Extempore-PI): The shortlisted candidates go through the following process*:
IIFT scores carry the maximum weightage and additional criteria of academic consistency, academic diversity, gender diversity, work experience will be used for final selection.
In addition to this, the candidate has to appear for the following:
1. Writing Ability Test (WAT):
The shortlisted candidates have to submit an essay on a given topic. The evaluation will be mainly based on clarity and ability to comprehend and the technique of presentation and expression of ideas.
2. Group Discussion (GD):
The shortlisted candidates have to discuss on a given topic in groups. The evaluation of GD will be on the ability of the candidate to demonstrate leadership skills, team player skills, communication, content and ability to give new insights on the topic.
3. Personal Interview:
The shortlisted candidates have to appear for personal interview. The evaluation is based on academic, extra curricular and analytical performance of the candidate.
What Are The Important Dates Of IIFT MBA (IB) Exam?
Last Date For National Students : 14th 24th November 2022, 5 PM
Last Date For Foreign Nationals and NRIs: 15th March 2023
Entrance Exam Date: 18th December 2022
Exam Timing: 10 am – 12 noon