IITB CEED 2024 Common Entrance Exam for Design : IIT Bombay
Organisation : IIT Bombay IITB
Exam Name : Common Entrance Exam for Design (CEED) 2024
Applicable For : Degree/Diploma/Post Graduate Degree Students
Exam Date : January 21, 2024
Last Date : 31st October 2023
Website : https://www.ceed.iitb.ac.in/2024/
Want to comment on this post?

Go to bottom of this page.
IITB Common Entrance Exam for Design
Common Entrance Exam for Design (CEED) 2024 is to assess the candidate's aptitude for design involving visual perception ability, drawing skills, logical reasoning, creativity, communication, and problem solving skills. CEED is conducted by IIT Bombay. It is a qualifying examination for admission to Master of Design (MDes) programmes at IISc Bangalore, IIT Bombay, IIT Delhi, IIT Guwahati, IIT Hyderabad, IIT Jodhpur, IIT Kanpur, IIT Roorkee, IIITDM Jabalpur and PhD programmes at several IITs and design schools.
Related / Similar Entrance :

ARCH AIEED 2023 All India Entrance Examination for Design

IIT Bombay UCEED 2024 Undergraduate Common Entrance Exam for Design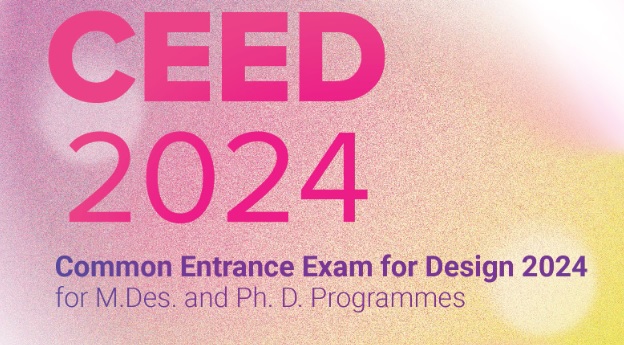 Eligibility of Common Entrance Exam for Design
Candidates must have completed a degree/diploma/post graduate degree programme of minimum THREE years (after 10+2 level), or must be appearing for the final examination of such a program by July 2024, or must have passed the GD Arts diploma programme (10+5 level) by July 2024.
Note that the eligibility criteria for admission to various institutes may differ from those for appearing for CEED. Before applying for CEED, candidates must check whether they meet the required eligibility criteria for admission to various institutes.
There is no age limit to appear for CEED. Also, a candidate can appear for CEED any number of times.
Registration of Common Entrance Exam for Design
CEED registration form must be submitted ONLINE ONLY through the official website, http://www.ceed.iitb.ac.in
Registration fee:
₹ 1900 for all women candidates
₹ 1900 for (SC/ST/PwD) candidates
₹ 3800 for all other candidates
Note that this registration fee is non-refundable and non-transferable. The registration fee has to be paid through the payment option provided on the website while submitting the registration form.
The online registration portal gives detailed instructions related to the payment of registration fees. Credit card, debit card and net-banking options are available. The registration fee shown above does NOT include service and other charges and the processing fees that the banks may levy.
The normal registration fee shown above is applicable till the regular closing date of registration. A late fee of ₹500 applies to ALL candidates for registrations submitted after the regular closing date. Please refer to the dates in section 1.2 of this brochure.
How to Fill Online Registration Form for CEED?
To complete the registration procedure, you need to upload the following items:
1. File containing your recent colour photograph (.jpg file) as per the dimensions mentioned on the registration portal.
2. Scanned copy of your signature (.jpg file).
3. Scanned copy of your degree/diploma certificate (.pdf file), if the course is completed. If you do not have the final degree certificate, please upload a copy of the final year mark list or the provisional certificate. If the course is not completed, upload a certificate from the Principal of your college/Head of the department as per the format given in Appendix 1 (.pdf file).
4. Candidates applying under the EWS/SC/ST/OBC-NCL category must produce valid category certificates (.pdf file) issued by appropriate authorities. EWS/OBC-NCL certificates issued only from April 1, 2023 onwards are accepted for the examination. The candidates must produce a valid category certificate when applying for admission to the respective institute. The format of the OBC-NCL certificate is given in Appendix 2. The format of the SC/ST certificates is given in Appendix 3. The format of the EWS certificate is given in Appendix 4.
5. Candidates applying under the physical disability (PwD) category should produce a valid medical certificate (.pdf file) issued by the appropriate authority (see Appendices 5 to 8). The certificate must clearly state that the disability is at least 40%, to avail the reservation. Dyslexic candidates are required to additionally obtain a certificate from the Principal/Head of their College/Institution as per Appendix 9 (.pdf file). For Dyslexic candidates, the certificate must clearly state that the nature of disability is SEVERE and PERMANENT.
6. PwD candidates requiring the services of a scribe and/or compensatory time during the exam must upload a request letter as per Appendix 10 (.pdf file).
7. Candidates whose name is not the same as the name on the degree/diploma certificate should produce a gazette notification, a marriage certificate or scanned pages of the passport reflecting the change of name (.pdf file).
Syllabus of Common Entrance Exam for Design
CEED 2024 will be in two parts (A & B). Part-A will have questions related to the following topics:
Visualization and spatial reasoning: Ability to visualise and transform 2D shapes and 3D objects and their spatial relationships.
Practical and scientific knowledge: Know-how of scientific principles and everyday objects.
Observation and design sensitivity: The capacity to detect concealed properties in daily life and think critically about them. Attention to detail, classification, analysis, inference and prediction.
Environment and society: General awareness of environmental, social and cultural connections with design.
Analytical and logical reasoning: Ability to analyse qualitative and quantitative information.
Language: Proficiency in reading and comprehending Standard English.
Creativity: Grasp of verbal and non-verbal analogies, metaphors, signs and symbols.
Art and Design knowledge: Awareness about art/artefact/product, artists/designers, art/design history and trends.
Design methods and practices: Knowledge of media, materials, production processes, and ergonomics.
Part-B of CEED 2024 will have questions related to the following topics:
Drawing: Ability to draw products, people or scenes in proportion with good line quality, composition, proportion, perspective, and shading.
Creativity: Ability to think out-of-the-box and come-up with unique as well as diverse solutions.
Communication: Skills to communicate concepts and ideas clearly with the help of text and visuals.
Problem identification: Skills to understand the user and the context, knowledge of properties of materials and their appropriate use in design. CEED 2024 is an aptitude test; hence, no specific textbook or guide is recommended for its preparation. Candidates may, however, practise their drawing, rendering and visualization skills. Question papers of some previous years are available on the official CEED website.
Note: The suggested topics are exhaustive and indicative of the nature of the questions. However, the CEED 2024 may not cover all the topics.

Important Dates of Common Entrance Exam for Design
Online Registration with regular fee October 03 – October 31, 2023
Online Registration with late fee November 01 to November 08, 2023
Admit Card available for download January 05, 2024, 01:00 pm
Date of Examination January 21, 2024, Sunday 9:00 AM to 12:00 Noon
Release of draft answer key for Part-A January 23, 2024
Last date of uploading comments about draft answer key for Part-A January 25, 2024 5:00 pm
Release of final answer key for Part-A January 31, 2024
Declaration of results March 06, 2024
Detailed Entrance Notification Download here : https://www.entrance.net.in/uploads/pdf2023/21562-ceed.pdf