jeemain.nta.ac.in JEE (Main) 2024 Joint Entrance Examination : National Testing Agency
Organisation : Ministry of Education (MoE) National Testing Agency (NTA)
Exam Name : Joint Entrance Examination JEE (Main) 2024
Applicable For : Class XII Passed Students
Last Date : 30 November 2023 & 02 March 2024
Apply Online :  https://jeemain.ntaonline.in/
Website : https://jeemain.nta.ac.in/
Want to comment on this post?

Go to bottom of this page.
NTA Joint Entrance Examination JEE (Main)
The Joint Entrance Examination, JEE (Main) comprises two papers. Paper 1 is conducted for admission to Undergraduate Engineering Programs (B.E/B.Tech.) at NITs, IIITs, other Centrally Funded Technical Institutions (CFTIs), and Institutions/ Universities funded/recognized by participating State Governments. JEE (Main) is also an eligibility test for JEE (Advanced), which is conducted for admission to IITs. Paper 2 is conducted for admission to B. Arch and B. Planning courses in the country.
Related / Similar Entrance Exam : Sathyabama All India Online Entrance Examination SAEEE 2024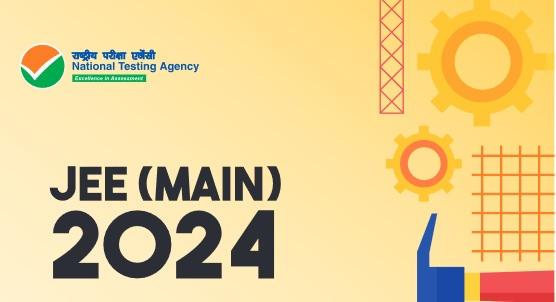 Age Criteria of Joint Entrance Examination JEE (Main)
For appearing in the JEE (Main) – 2024, there is no age limit for the candidates. The candidates who have passed the class 12/equivalent examination in 2022, 2023, or appearing in 2024 irrespective of their age can appear in JEE (Main) – 2024 examination. However, the candidates may be required to fulfill the age criteria of the Institute(s) to which they are desirous of taking admission.
Qualifications of Joint Entrance Examination JEE (Main)
i. The final examination of the 10+2 system, conducted by any recognized Central/ State Board, such as the Central Board of Secondary Education, New Delhi; Council for the Indian School Certificate Examinations, New Delhi; etc.
ii. Intermediate or two-year Pre-University examination conducted by a recognized Board/ University.
iii. Final examination of the two-year course of the Joint Services Wing of the National Defense Academy
iv. Senior Secondary School Examination conducted by the National Institute of Open Schooling with a minimum of five subjects.
v. Any Public School/ Board/ University examination in India or any foreign country is recognized as equivalent to the 10+2 system by the Association of Indian Universities (AIU).
vi. Higher Secondary Certificate Vocational Examination.
vii. A Diploma recognized by AICTE or a State board of technical education of at least 3 years duration.
viii. General Certificate Education ( GCE) examination (London/Cambridge/Sri Lanka) at the Advanced (A) level.
ix. High School Certificate Examination of the Cambridge University or International Baccalaureate Diploma of the International Baccalaureate Office, Geneva.
x. Candidates who have completed the Class 12 (or equivalent) examination outside India or from a Board not specified above should produce a certificate from the Association of Indian Universities (AIU) to the effect that the examination they have passed is equivalent to the Class 12 Examination.
xi. In case the Class 12 Examination is not a public examination, the candidate must have passed at least one public (Board or Pre-University) examination earlier.
Mode of Examination for JEE (Main)
JEE (Main) – 2024 is being conducted in the following modes:
a) Paper 1 (B.E. /B. Tech.) in "Computer Based Test (CBT)" mode only.
b) Paper 2A (B. Arch): Mathematics (Part-I) and Aptitude Test (Part-II) in "Computer Based Test (CBT)" mode only and Drawing Test (Part-III) in pen and paper (offline) mode, to be attempted on drawing sheet of A4 size.
c) Paper 2B (B. Planning): Mathematics (Part-I), Aptitude Test (Part-II), and Planning-Based Questions (Part-III) in Computer-Based Test (CBT) mode only.
How to Apply for Joint Entrance Examination (Main)?
1.Candidates must read carefully the Instructions (including how to fill up the Application Form online) given in the Information Bulletin available on the NTA Website. Candidates not complying with the instructions shall be summarily disqualified.
2.Candidates can apply for JEE (Main) – 2024 Session 1 and Session 2 through the "Online" mode only. The Application Form in any other mode will not be accepted.
3.Submission of the Application Form could be made by the candidate online through the NTA website: https://jeemain.nta.ac.in/
4. Instructions for filling Online Application Form:
Download the Information Bulletin and Replica of the Application Form. Read these carefully to ensure your eligibility.
Follow the steps given below to Apply Online:
Step 1: Registration Process :
Candidate needs to select any one of the following to register for JEE (Main):
** To log in/create a Digi locker account through the NAD portal. Or;
** To log in/create an Academic Bank of Credits ID (ABC ID) through the ABC ID. Or;
** To log in using an Indian Indian Passport Number. Or;
** To log in using a Non-Indian Passport Number. Or;
** To log in using a PAN Card Number. Or;
** To log in using an Aadhaar Enrollment Number.
After successful submission of the personal details, an Application number will be generated and it will be used to complete the remaining Steps of the Application Form and will also be required for all future reference/correspondence.
This application number will also be used/referred for both Sessions of JEE (Main) – 2024. For subsequent logins, the candidate will be able to login directly with the respective system- generated Application Number and created Password.
Step 2: Application Form:
The Candidates can log in with the system-generated Application Number and pre-created Password or Digi locker ID / ABC ID and their password for completing the Application Form including filling up personal details, applying for the Paper, choosing the Examination Cities, providing the details of Educational Qualifications, and uploading the images and documents (if any).
Step 3: Fee Payment:
After completing Step 1 and Step 2, the candidates have to pay the requisite examination fee. The fee can be only submitted online through Net Banking, Credit Card, Debit Card, and UPI. Processing charges and GST as applicable are chargeable to the candidate (in addition to the examination fee) by the concerned Bank.
The Confirmation Page of the online Application Form will be generated only after successful payment by the Candidate. In case the Confirmation Page is not generated after payment of fee, then the candidate may have to approach the concerned Bank (in the helpline number and e-mail given in the Information Bulletin) for ensuring the successful payment or for obtaining the refund of duplicate/multiple payments.

Important Dates of Joint Entrance Examination JEE (Main)
(a) Session-1: JEE (Main) – January 2024
Online Submission of Application Form 01 November 2023 to 30 November 2023 (up to 09:00 P.M.)
Last date for successful transaction of prescribed Application Fee 30 November 2023 (up to 11:50 P.M.)
Announcement of the City of Examination By the second week of January 2024
Downloading Admit Cards from the NTA website 03 days before the actual date of the Examination
Dates of Examination Between 24 January and 01 February 2024
Display of Question Paper attempted by the Candidate and Answer Keys for inviting challenges
To be displayed on the NTA website Declaration of Result 12 February 2024
(b) Session-2: JEE (Main) – April 2024
Online Submission of Application Form 02 February 2024 to 02 March 2024 (up to 09:00 P.M.)
Last date for successful transaction of prescribed Application Fee 02 March 2024 (up to 11:50 P.M.)
Announcement of the City of Examination By the third week of March 2024
Downloading Admit Cards from the NTA website 03 days before the actual date of the Examination
Dates of Examination Between 01 April and 15 April 2024
Display of Question Paper attempted by the Candidate and Answer Keys for inviting challenges To be displayed on the NTA website
Declaration of Result 25 April 2024
Detailed Notification Download here : https://www.entrance.net.in/uploads/pdf2023/21571-jee.pdf