LL.B Course Admission Entrance Test Pre-Requisites cee-kerala.org : Commissioner of Entrance Examinations
Organization : Commissioner of Entrance Examinations
Entrance Test : LL.B Course Admission Entrance Test
Facility : Pre-Requisites
Want to comment on this post?

Go to bottom of this page.
Pre-Requisites : cee.kerala.gov.in/llb5online2015/main/index.php
Home Page : http://www.cee-kerala.org/index.php/home
LL.B Course Admission Entrance Test
PRE-REQUISITES :
Before applying online for INTEGRATED LLB.5 2015, you should ensure the following requirements :
1. Prospectus
Read the prospectus of INTEGRATED LLB-5 2015 before filling up application.
Related : CEE KEAM 2018 Kerala Engineering Agriculture Medical Entrance Examination : www.entrance.net.in/13226.html 
2. Photograph
jpeg format of candidate's photograph (see the guideline for scanning photograph)
3. Email ID and Mobile Number
Candidate should possess a valid email id. Keep this email id live and secure till the end of the admission process, INTEGRATED LLB-5 2015. If you do not have an email id, a new email id must be created before applying online. Candidate should not provide the email id of others, under any circumstances. A valid email id and a mobile number is to be given in the online application.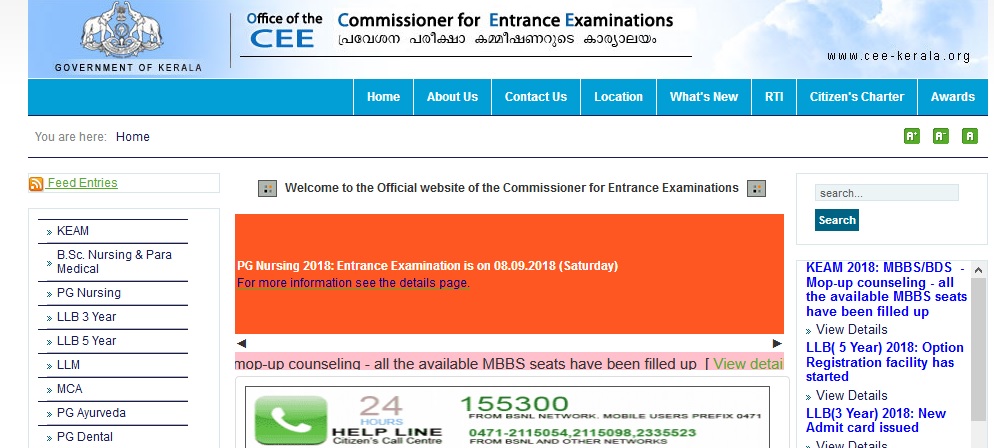 4. Application Fee
Candidate should have details of Application fee remittance.
5. Certificates/Documents
All other relevant documents which you need to fill up all fields in the online application like, name, date of birth, category, caste, income etc.
6. Computer System
The computer system used for applying online should have the following facilities:
a) Internet
Should have an internet connection.
b) Browser
Should have a browser. Recommended browsers are Mozilla Firefox and Internet Explorer 7 or above.
c) PDF reader
Should have a PDF reader like, Adobe PDF reader or Foxit Reader.
d) Printer
The printout of all pages of application should be taken in Laser printer/Deskjet Printer in A4 white paper only.
GUIDELINES FOR SCANNING AND UPLOADING PHOTOGRAPH :
For applying online, the candidates must have scanned/digital image of his/her photograph.
The Specification of photograph image should be as follows:
1. Size of the photograph should be passport size
2. Photograph must be in colour with a light colour background, white is preferable.
3. The face of the candidate should be straight and clear.
4. Photo wearing caps and dark glasses will be rejected.
5. Scanned image file should be in jpg (jpeg) format only.
6. Dimensions of the photograph 150 pixels width and 200 pixels height.
7. Size of the image file should be between 15 kb and 30 kb.
Procedure for Uploading the Photograph :
The facility for uploading your photo is available after you login. Click on 'Browse' or 'Choose File' and Select the location where the scanned photograph file has been saved. Select the file by clicking on it and then click the 'Upload' button. If the photo is within the above mentioned specification, the selected photograph will be uploaded.
Remember:
1. A printed copy of uploaded photo should be affixed on the specified place in the printout of the application and get it duly attested by a gazetted officer.
2. If the face in the photograph is unclear, your application will be rejected.
3. The uploaded photo and affixed photo on the printout of application should be identical.