BLDE University : BLDEU PGET 2016 All India Post Graduate Medical Entrance Test Diploma Admission
Organisation : BLDE University
Announcement : BLDEU-PGET All India Post Graduate Medical Entrance Test – 2016
Want to comment on this post?

Go to bottom of this page.
Apply Online : bldeu.in/pget2016/?page=application_form
Notification: https://www.entrance.net.in/uploads/5819-NOTIFICATION_ADVT-PGET-2016.pdf
Home Page : http://www.bldeuniversity.ac.in/
BLDE PGET
B.L.D.E. University invites Application for ALL INDIA POST GRADUATE MEDICAL ENTRANCE TEST – 2016 (BLDEU PGET 2016) from eligible candidates.
Related : BLDE University BLDEU PGET 2016 How to Apply : www.entrance.net.in/5823.html
M D : Radiology, General Medicine, Paediatrics, Dermatology, Anaesthesiology, Community Medicine, Pathology, Microbiology, Pharmacology, Forensic Medicine, Biochemistry, Physiology, Anatomy.
M S : General Surgery, Obst. & Gynaecology, Orthopaedics, Ophthalmology, E.N.T
Diploma : DGO, D'Ortho, DLO, DCH, DA, DCP
Information Brochure and Application form can be downloaded from our website bldeuniversity.ac.in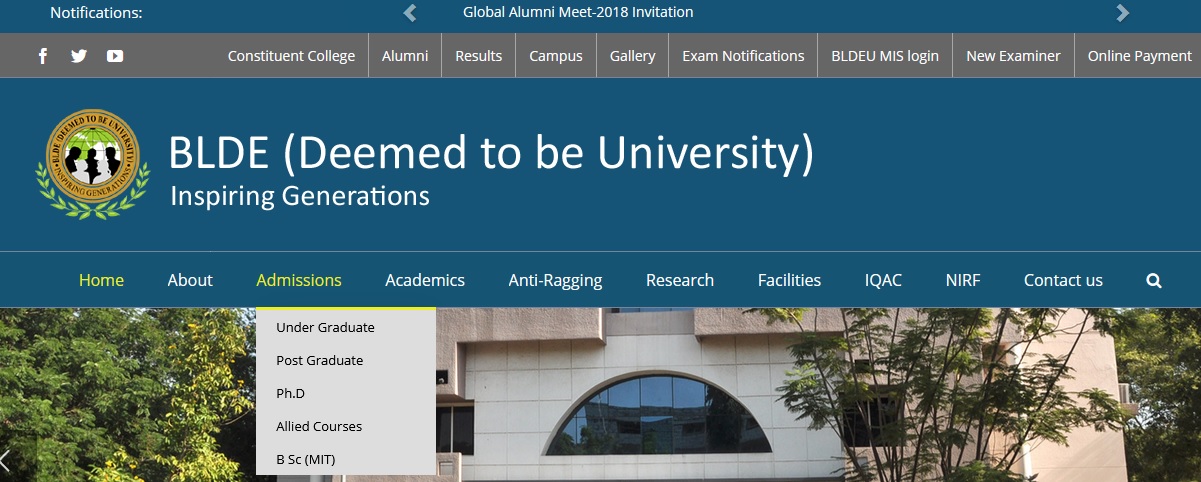 The Application should accompany a Online Payment Receipt or D.D of Rs.4,000/- drawn in favour of "The Registrar, BLDE University, Vijayapur (Bijapur)", payable at Vijayapur (Bijapur) 586103, Karnataka, and shall reach The Registrar, BLDE University, Smt. Bangaramma Sajjan Campus, Sholapur Road, VIJAYPUR(Bijapur)-586103 (Karnataka)
Eligibility as per MCI and UGC regulations
Date of entrance examination : 27-12-2015
Examination centres : Vijayapur (Bijapur), Bangalore, Hyderabad, Delhi, Kolkata, Chennai and Mumbai
Admission Policy :
Admission will be made in accordance with the admission policy of BLDE University which has been framed as per the guidelines laid down by MCI and UGC. 15% of the total seats are reserved for the NRI/PIO/Foreign and 5% of the total seats are reserved for Institutional Preference / In-Service and others.
Eligibility Criteria :
Only those candidates, who satisfy or likely to satisfy the following relevant eligibility requirements for admission to Post Graduate courses will be considered eligible to appear for the BLDEU-PGET-2016 and subsequently for admission to the course.
Eligibility requirements to appear for BLDEU-PGET-2016 and admission to the medical Post Graduate Diploma and Degree Courses are :
1. The candidates seeking admission to these courses should have passed MBBS from the college recognized by Medical Council of India.
2. As specified by Medical Council of India, the minimum percentage of marks in the entrance test for eligibility for admission to Post Graduate courses shall be:
a) General category 50 percent
b) SC/ ST & OBC (OBC as declared by Government of Karnataka from time to time) Category 40 percent
c) Candidates with 40 to 70% locomotor disability of lower limbs (as certified by competent issuing authority) category 45 percent.
3. The candidate should have completed the compulsory rotating internship / would be completing by 30th April 2016.
4. Foreign / PIO / NRI students are exempted from BLDEU-PGET-2016. Their admission will be based on qualifying examination marks.
Note: Eligibility criteria changes if any, effected by MCI or any other competent Regulatory Authorities shall be adopted.
Calendar of Events :
Sl. No. | EVENTS | DATE
1 Last date for downloading Applications 15th December 2015
2 Last Date to receive applications (Hard copy along with enclosures either in Person or by Post / Courier) 21st December 2015 5.30 pm
3 Last date to receive Request for change of TEST Centre i.e. Appendix-IV [Either in Person / mail (scanned copy)] 22nd December 2015, 5.30 pm by e-mail
4 TAT Cards will be available on website 15th December 2015 onwards
5 BLDEU-PGET-2016 Entrance Examination Date & Time Sunday, 27th December 2015, at 10.00 am to 1.00 pm
6 Result and Rank Announcement On or before 15th January 2016
7 First Round of Counseling & Admission 10th March 2016 onwards
8 Second round of Counseling & Admission of seats subject to vacancies 21st April 2016
9 Commencement of Academic session 2nd May, 2016