BLDE University PGET 2016 Reprint Application : All India Post Graduate Medical Entrance Test Diploma Admission BLDEU
Organisation : BLDE University
Announcement : BLDEU-PGET All India Post Graduate Medical Entrance Test – 2016
Facility : Reprint Application
Want to comment on this post?

Go to bottom of this page.
Reprint Application Here (FAQs): bldeu.in/pget2016/?page=app_reprint
Home Page : http://www.bldeuniversity.ac.in/
BLDE Reprint Application
** Enter Candidate's Name
( As Per Degree Certificate / Mark Sheet )
** Enter Date of Birth (DD/MM/YYYY)
Related : BLDE University BLDEU PGET 2016 Syllabus & Test Scheme : www.entrance.net.in/5826.html
OR
** Enter Application No
** Click Submit Button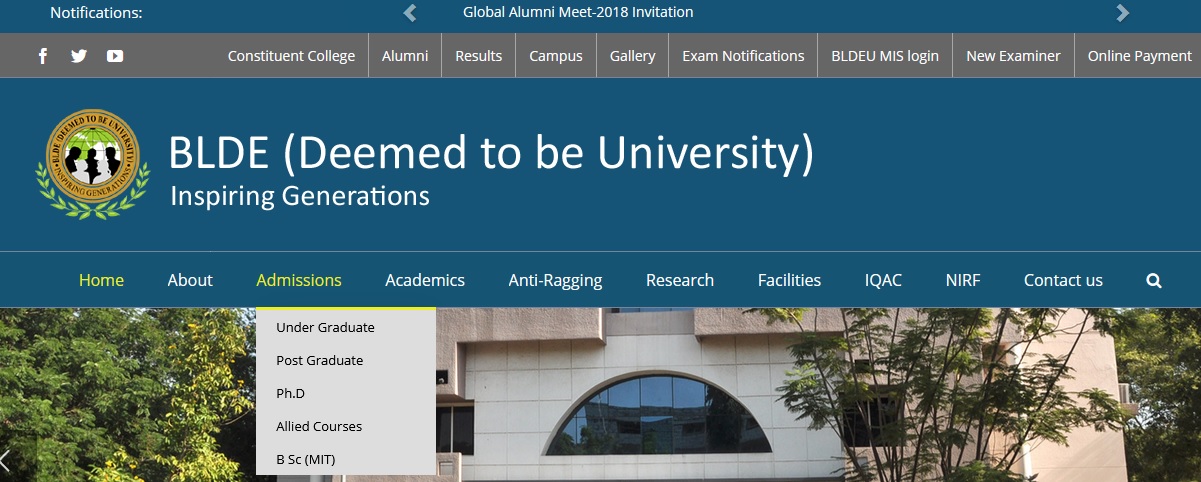 Entrance Test Centers:
** Vijayapura (Bijapur)
** Bangalore
** Hyderabad
** Delhi
** Kolkata
** Chennai
** Mumbai
Note:
** Request for change of TEST Centre will be accepted in prescribed format (appendix – IV) only through e-mail (scanned copy) on or before 22-12-2015.
** In the event of cancellation of any centre, candidates will be allotted nearest center by an advance intimation by e-mail provided by the candidate in the application form.
Checklist of the documents to accompany the completed application form :
1. a. If paid through ONLINE please ensure that, Take the print of Online Payment Receipt and attach the same along with Application form.
OR
b. If entrance test / application fee paid through DD, Demand Draft for Rs 4000/- drawn in favour of The Registrar, BLDE University, Vijayapura (Bijapur) payable at Vijayapura (Bijapur)-586103, Karnataka State. (Write your full name and application number on the back of DD). Check for the banker's signature on the DD.
Self attested photocopies of following documents should be submitted :
2. Degree Certificate / Provisional Degree Certificate
3. Compulsory Rotatory Internship Completion Certificate or Certificate indicating the probable date of completion issued by the Principal/Head of the Institute.
4. Registration/Provisional Registration Certificate ( Registration from Karnataka Medical Council is compulsory to take admission in BLDE University / any University/ College in Karnataka)
5. Attempt Certificate
6. All marks cards including that of failed year/phase if any(First year to Final Year)
7. The certificate issued by competent authority (English version) for candidates claiming lower eligibility under Locomotor disability / SC / ST / OBC (Karnataka) categories.
8. Two additional copies of photographs (write your application number on the back of each photograph and attestation is not necessary) same as pasted on the application form.
9. In case of Candidates who have studied outside India, it is mandatory that they have to enclose copies of Screening Test Result & MCI Registration certificate.
NOTE :
** The application form shall be sent in A4 size envelope only. Applications should not be folded. Please mention PGET-2016 on envelope.
** Ensure that enclosed photographs provided are identical, sharp, clear in colour and clarity, and should not be more than 6 months old. Individuals who use spectacles should take photograph with spectacles. Use of goggles, caps , masks are not acceptable in photograph except for the turban in case of Sikh male. Application with smudged / tampered or hazy photograph will be rejected. Any application not adhering to these specifications will be rejected without any notification and no refund of the application fee will be made. The decision of the University in this matter will be final.
** Please note down the application number for further correspondence.
** Brochure and application form can be downloaded only through our website bldeuniversity.ac.in
** Candidates are advised to visit our website bldeuniversity.ac.in regularly. Keep a watch for "Red List" showing the names of candidate whose applications are in complete to comply well in time. This will enable BLDE University to process the Test Admission Ticket (TAT) on time. The University shall reject the application
form, if necessary clarifications in the Red Alert List are not complied within the prescribed time.
** The completed Application Form shall reach The Registrar, BLDE University, Smt. Bangaramma Sajjan Campus, Sholapur Road, Vijayapura (Bijapur)-586103, either in person / post / courier, on or before 5:30 pm of 21st December, 2015.