Vikrama Simhapuri University VSUPGCET 2016 VSU PGCET : Post Graduate Common Entrance Test
Organisation : Vikrama Simhapuri University VSU
Announcement : Post Graduate Common Entrance Tests–2016 (VSUPGCET)
You can now ask your questions about this Entrance Exam.
Please go to the bottom of this page.
Online Registration : http://www.vsupgcet.in/ApplicationForm.aspx
Notification : https://www.entrance.net.in/uploads/10024-VSUPGCET.pdf
Home Page :  http://www.simhapuriuniv.ac.in/
VSUPGCET Entrance Test
Applications are invited for admission into various post graduate courses (M.A., M.Sc., M.Com., M.S.W. and M.Ed.) offered by Vikrama Simhapuri University, Nellore at its constituent and affiliated colleges during the academic year 2016-17.
Related : Kakatiya University KUPGCET 2016 Post Graduate Common Entrance Test : www.entrance.net.in/10022.html
The admissions into the above courses are through the Post Graduate Common Entrance Tests conducted by Vikrama Simhapuri University, VSUPGCET–2016.
The admissions are governed by the VSUPGCET–2016 rules and regulations given in this booklet. The Advisory Committee of VSUPGCET–2016 reserves the right to change or modify any of the rules.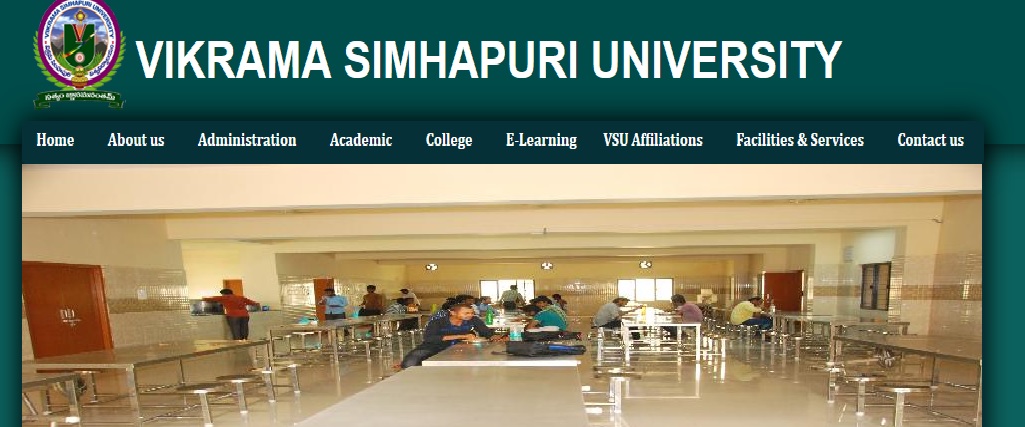 ELIGIBILITY FOR WRITING THE ENTRANCE TEST :
1. The candidate should have passed the qualifying examination from a recognized University.
For admission into M.A. Economics, English, Political Science & Public Administration, Telugu, M.Sc. Botany, Chemistry, Mathematics/Applied Mathematics, Physics, Statistics and Zoology the candidate should have at least 40% marks in the concerned subject.
For admission into any other course, the candidate should have at least 40% aggregate marks in the group subjects.
For admission into M.Ed., the aggregate marks in B.Ed. should be at least 50% and the aggregate marks in degree/PG should be at least 45%.
2. Pass is sufficient for SC/ST candidates for admission into any course.
3. A candidate who has already passed the qualifying examination or who has appeared / is appearing for the final year annual examination in 2016 is eligible to apply.
4. Supplementary candidates of 2016 are not eligible for admission during 2016-17.
HOW TO APPLY (THROUGH ONLINE SUBMISSION ONLY) :
a) Online Submission: Application should be submitted online in the website vsupgcet.in. After filling the application the candidate should submit a print out of the application along with necessary Xerox copies certificates.
The print out of the application along with necessary Xerox copies certificates should be submitted either in person or by Registered post or by SPEED POST so as to reach on or before 12-05-2016, 5P.M., in the office of
CONVENOR, VSUPGCET-2016,
23-3-208, SODHAN NAGAR,
Near APSRTC Bus Stand, NELLORE- 524003.
Phone Number 08612352300.
b) If the candidate apply for a particular test and if found to be not eligible for that test, the test fee paid will not be refunded. Hence the candidates are advised to go through thoroughly the eligibility conditions given in the instruction booklet before applying.
c) The candidates who have paid less than the prescribed fees their application will be rejected
d) Incomplete applications will be summarily rejected.
IMPORTANT DATES :
EVENTS DATES
Commencement of uploading/submission of ONLINE APPLICATIONS 09th April 2016
Last date for submission of ONLINE APPLICATIONS Application Fee Rs. 400/- 30th April 2016
Last date for submission of ONLINE APPLICATION with Late fee of Rs. 900/- + Late Fee Rs.500/-) 07th May 2016
Last date for submission of ONLINE APPLICATION with Tatkal fee of Rs. 1400/- (+Tatkal Fee Rs.1000/-) 11th May 2016
Last date for submission of print out of the application in VSUPGCET office 12th May 2016
Downloading Hall-Tickets from website 16th May, 2016 onwards
Tentative Schedule for the Entrance Tests 24th, 25th, 26th & 27TH May, 2016
Releasing of Results 31st May, 2016
Schedule for Certificates Verification and exercising options for Phase I Counseling of Admission process 15th June, 2016 onwards
Last date for Cancellation of Admissions 25th June, 2016
Phase II Counseling for Admissions starts 27th June, 2016 onwards
Closing of Admissions 15th July, 2016
Class work commences on 01st July, 2016