NVS Class IX Lateral Entry Admission Test 2018 : Jawahar Navodaya Vidyalaya Selection Test
You can now ask your questions about this Entrance Exam.
Please go to the bottom of this page.
Organisation : NVS Navodaya Vidyalaya Samiti
Entrance Exam : Class IX Lateral Entry Admission Test 2018 Jawahar Navodaya Vidyalaya Selection Test
Date of Examination : 19th May 2018
Notification : https://www.entrance.net.in/uploads/13423-nvs.pdf
Home Page : http://www.nvshq.org/
NVS Class IX Lateral Entry Admission Test
Online Application Form For Lateral Entry Admission To Class IX (2018-19) Against Vacant Seats in Jawahar Navodaya Vidyalayas.
Related : AMU Schools Admission 2018-19 Class I, VI & IX : www.entrance.net.in/13230.html
Eligibility
** Only those candidates who are studying/ studied Class VIII during the Academic Session 2017-18 in one of the Govt./Govt. recognized schools
** Candidate appearing for the admission test must qualify/ pass Class VIII in the academic session 2017-18 from a Govt./Govt. recognized school
** A candidate seeking admission must be born between 01.05.2002 and 30.04.2006 (both days inclusive).
How To Apply
Online applications may be submitted from 1st March, 2018 (00:00 Hrs.). The candidate may refer to NVS Hqrs. Website nvshq.org or website of JNVs.
Apply Online : http://www.nvsadmissionclassnine.in/nvs/homepage

Registration :
If you are New user, Click on "Candidate to click here for Registration" Button
Step 1 : Select State
Step 2 : Select District
Step 3 : Click on "Proceed" Button

Personal Details Tab :
Step 4 : Enter your Name
Step 5 : Upload your Photo Photograph is mandatory to be uploaded.
Step 6 : Enter your Mother's Name
Step 7 : Enter your Father's Name
Step 8 : Select Gender
Step 9 : Enter Identification Mark
Step 10 : Select Category
Step 11 : Select Marital Status
Step 12 : Enter Date of Birth
Step 13 : Enter your Address
Step 14 : Enter Pin Code
Step 15 : Enter Mobile No.
Step 16 : Click on "Next" Button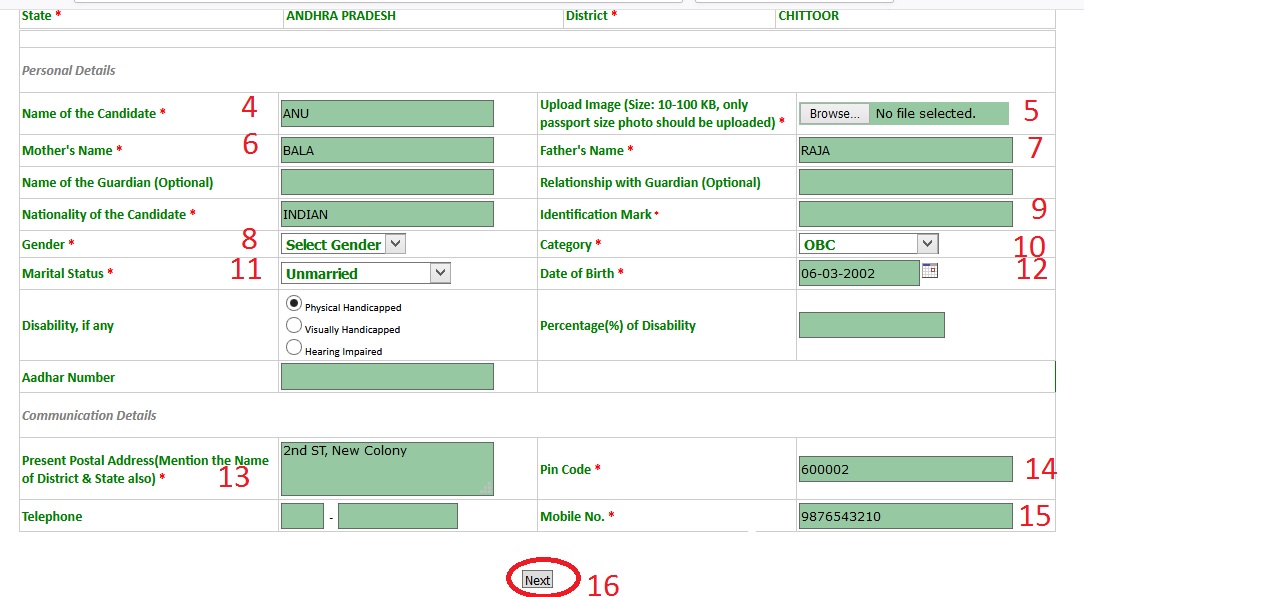 VIII Standard Details :
Step 17 : Enter the Name of School
Step 18 : Select whether recognized or not recognized.
Step 19 : Select School Location
Step 20 : Enter the School Block
Step 21 : Enter the Name of the Town
Step 22 : Enter Date of Joining
Step 23 : Enter Date of Passing
Step 24 : Select the Medium
Step 25 : Click on "Next" Button.

View the Preview Screen :
Step 26 : Tick on Certificate By Candidate/Parent/Guardian
Step 27 : Upload Candidate Signature
Step 28 : Upload Parent Signature
Step 29 : Enter Captcha Code Details
Step 30 : Click on "Submit Details" Button

Candidate Log in to print filled in Application Form after Registration :
Step 1 : Enter Registration Number
or
Step 2 : Enter Mobile Number
Step 3 : Click on "Login" Button

Composition of The Test
** Selection Test will consist of subjects of Mathematics, General Science, English and Hindi. Difficulty level of the test paper shall be of Class VIII.
** Nature of the Selection Test :
Sl.No. Subject Marks
01. English 15
02. Hindi 15
03. Maths 35
04. Science 35
TOTAL 100 Marks
** The test will be of objective type with 2 ½ hours duration without any break.
** Medium of Language for Examination will be English/Hindi.
** Students have to answer in OMR sheet
** Merit List will be announced as per the NVS selection criteria.
General Instructions For Candidates
1. Count the number of pages of the Booklet and see that they are in proper order. Also please ensure that the question paper contains 100 questions serially numbered from 1-100. In case of a defective test booklet, report it to your invigilator and get it replaced.
2. Candidates must fill in their Roll Number on answer sheet as well as question paper.
3. The Booklet consists of 100 questions in four sections
I. Section–I: Hindi, Questions 1-15
II. Section–II: English, Questions 16-30
III. Section-III: Mathematics, Questions 31-65
IV. Section-IV: General Science, Questions 66-100
4. All questions are to be attempted. You have to qualify in each section separately.
5. A Bell will be rung after every one hour.
6. You may use only this question booklet for rough work. No separate sheet will be provided.
7. Please check the test booklet number and the number printed on the OMR sheet. If they are different report to the invigilator and request for another question paper with the OMR sheet.
8. Answers are to be marked in the separate OMR sheet which will be provided along with question paper. Marking of answers on the question paper is NOT allowed.
9. Use Black/Blue Ball point Pen only to write on Answer Sheet. Use of Pencil is Strictly Prohibited.
10. Each question is followed by four alternative answers, marked A, B, C and D. candidate is required to select the one that answers the question correctly and darken that circle on OMR answer sheet.
11. No change in the answer once written is allowed. Overwriting, cutting and erasing on the answer sheet is NOT allowed.
12. Use of white/correction fluid/eraser on Answer Sheet is NOT allowed.
13. Do not make any stray mark on the answer sheet.
14. Do not leave the hall without handing over answer sheet and admit card to the invigilator.
15. Any candidate found either giving or receiving assistance or using unfair means during the exam will be disqualified. Any attempt for impersonation will also disqualify the candidature.
Important Dates
Online applications may be submitted from 1st March, 2018
Last date to apply for Entry test is 5th April 2018
Date of Examination – Saturday 19th May, 2018