MPUAT JET/Pre-PG & Ph.D Entrance Test 2018 : Maharana Pratap University of Agriculture and Technology
Organisation : MPUAT, Maharana Pratap University of Agriculture and Technology, Udaipur
Entrance Exam : JET/Pre-PG & Ph.D Entrance Test 2018
Date of Examination : 20-05-2018 (Sunday)
Notification : https://www.entrance.net.in/uploads/13428-jet.pdf
Home Page : http://www.rcaudaipur.com/
Want to comment on this post?

Go to bottom of this page.
MPUAT JET/Pre-PG & Ph.D
Online applications are invited for admission to JET/Pre-PG & Ph.D Programmes.
Related : MPUAT JET/Pre-PG 2016 Scheme Of Examination : www.entrance.net.in/9633.html
Eligibility Criteria
A candidate must ensure that he/she is eligible for admission to various courses before filling the online application form for JET.
Educational Qualification:
** The candidates who have passed the Senior Secondary (10+2) examination conducted by the Board of Secondary Education Rajasthan, Ajmer or any other Statutory Board or any examination recognized equivalent
** Candidate may attempt any three subjects in JET examination out of five but, those who wants admission in Bachelor of Dairy and Food Technology not have any choice and must attempt only PCM.
** A candidate must have secured at least 50% marks in the aforesaid examinations (10+2). A relaxation of 5% marks would be allowed to candidate belonging to SC/ST/OBC (Non creamy layer)/SBC (Non creamy layer) category.
Age Limit : The maximum age limit is 25 years as on 01-01-2018 i.e. candidate born before 01-01-1993 are not eligible.
Application fees
** Candidate must read the instructions given on the web site carefully.
General/OBC/SBC : Rs. 2800/- + bank charges
SC/ST/PC >39% : Rs.1400/- + bank charges
** Amount is to be deposited online only.
** This fee is not refundable/ transferable/ adjustable in any case.
How to Apply Online
** Only online application form will be accepted.
** The online application form can be filled as per the schedule
Procedure :
1. Go to the Official website of RCA Udaipur. Click on Application Form Link.


2. Select the following application form which you can apply.
i. JET Application Form
ii. Pre-PG Application Form
iii. Ph.D Application Form

3. It will redirect to the following page, click on "Continue" Button

4. Read Instruction carefully and Click on "click for online application" Button

Online Payment for JET :
Step 1 : Select Caste Category
Step 2 : Select Physical Disability (>39%)
Personal Information :
Step 3 : Enter Name
Step 4 : Enter Father's Name
Step 5 : Select Gender
Step 6 : Date of birth (Candidate above 25 years age as on 01.01.2018 are not eligible)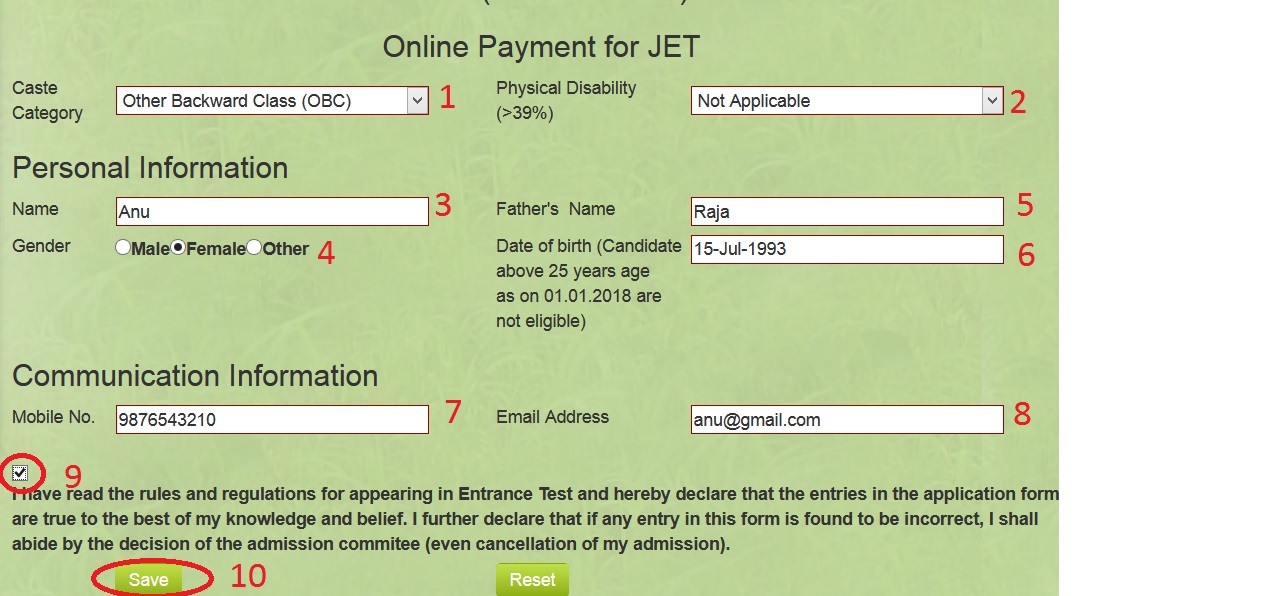 Communication Information :
Step 7 : Enter Mobile No.
Step 8 : Enter Email Address
Step 9 : Accept All rules and regulations
Step 10 : Click on "Save" Button
Step 11 : After complete the application form, it will redirect to payment section,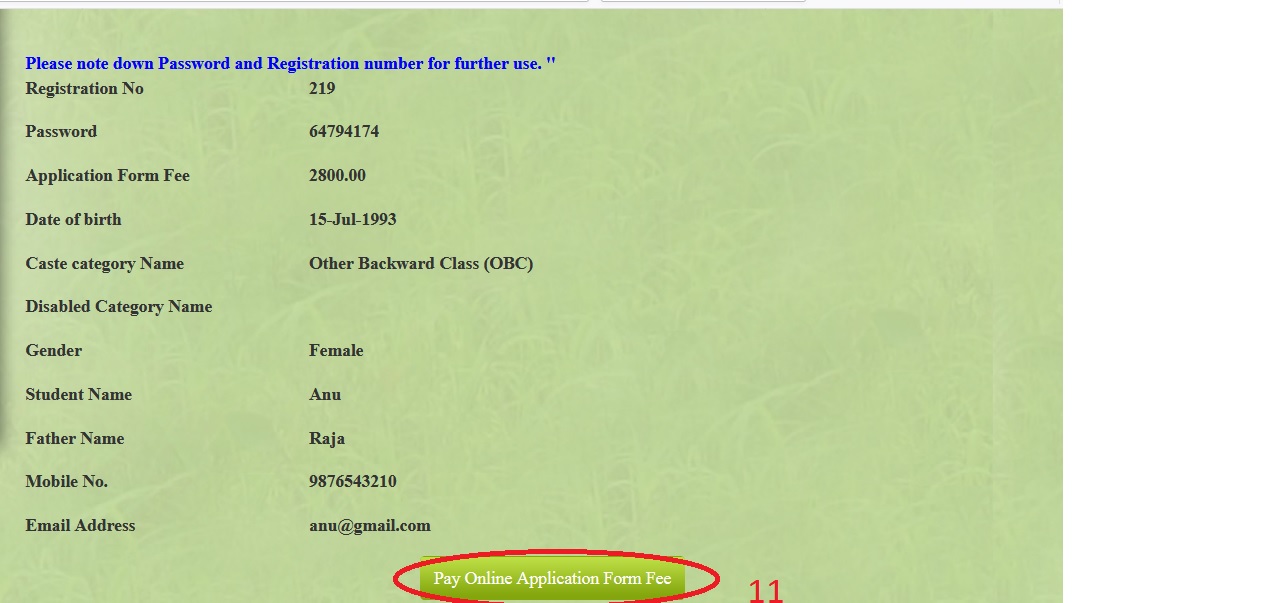 Step 12 : Fill the required details for online payment, Click on Pay now Button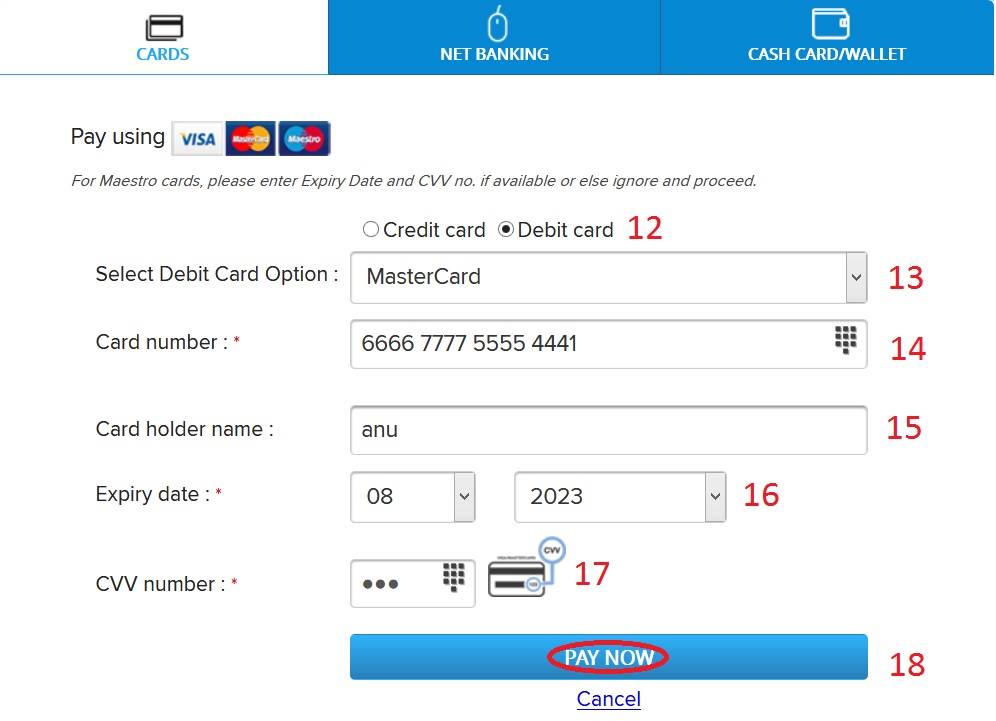 Filling of Online Application Form :
** The entries of online application form must be filled as required.
** Candidate should ensure that the photo and signature belongs to the same person only.
** The changes (if required) will be allowed in online application form up to a given date using registration number and password. Keep the password very safe as anyone can change your details and misuse it due to this for any change in your application form this office will not be responsible. Do not share the password details.
Important Dates
1. Notification : 01-03-2018
2. Opening of Online Application Form : 01-03-2018
3. Last date for depositing the online Application Forms fee : 10-04-2018
4. Last date for editing Application Forms : 12-04-2018
5. Online admit cards available : 14-05-2018
6. Date of entrance examination : 20 -05 -2018 (Sunday)
7. Display of OMR sheets, answer key by : 25-05-2018
8. Last date for objections if any : 27-05-2018
9. Declaration of result & opening of online option form : 05-06-2018
10. Last date for depositing the online option form fee : 13 -06 -2018
11. Last date for editing the online option form : 14 -06 -2018
12. Display of 1st provisional admission list : 18-06-2018
13. Last date for accepting allotment and depositing the fee or submitting request for upward assessment : 21-06-2018
14. Display of 2nd provisional admission list : 24-06-2018
15. Last date for accepting allotment and depositing the fee or submitting request for 2nd upward assessment : 27-06-2018
16. Display of 3rd provisional admission list : 30-06-2018
17. Last date for accepting allotment and depositing fee : 03-07-2018
18. Reporting with original document in respective college : 05-07-2018