JNUEE-CEEB 2019 Jawaharlal Nehru University Entrance Examination : ntajnu.nic.in
Organisation : JNU Jawaharlal Nehru University
Entrance Exam : JNUEE & CEEB 2019 Jawaharlal Nehru University Entrance Examination & Combined Entrance Examination for Biotechnology
Date of Examination : 27 May to 30 May, 2019
Application Deadline : 15-04-2019
Website/Apply Online : https://ntajnu.nic.in/GenRegSysCms/public/home.aspx
You can now ask your questions about this Entrance Exam.
Please go to the bottom of this page.
Jawaharlal Nehru University JNUEE & CEEB
Jawaharlal Nehru University invites applications for JNUEE & CEEB Jawaharlal Nehru University Entrance Examination & Combined Entrance Examination for Biotechnology for the year 2019.
Related : VITEEE 2019 VIT Engineering Entrance Examination : www.entrance.net.in/14126.html

Eligibility
** The eligibility Criteria and Subject wise Qualifications for admission are given in Annexure-XV.
** The Minimum Age limit for B.A. (Hons.) Programme is 17 years as on 1 October 2019. There is no age bar for any other programme.
Important Dates
** Online Submission of Application Form (up to 11:50 pm of 15 April, 2019) – 15 March to 15 April, 2019
** Last Date of Successful Transaction of Fee through Credit/Debit Card/Net-Banking up to 11:50 pm; through echallan up to bank hours – 16 April, 2019
** Correction in Particulars of Application Form on Website only 22 to 28 April, 2019
** Downloading of Admit Cards from NTA website 10 May, 2019
** Dates of Examination 27, 28, 29 and 30 May, 2019 31 May as Reserve Day
JNUEE – CEEB Apply Online
Follow the 4 steps given below to Apply Online
Step 1 :
Registration for Online Application Form and note down system generated Application Number.

The candidate should supply all the details while filling the Online Application Form and is also required to create PASSWORD and choose Security Question and enter his/her Answer.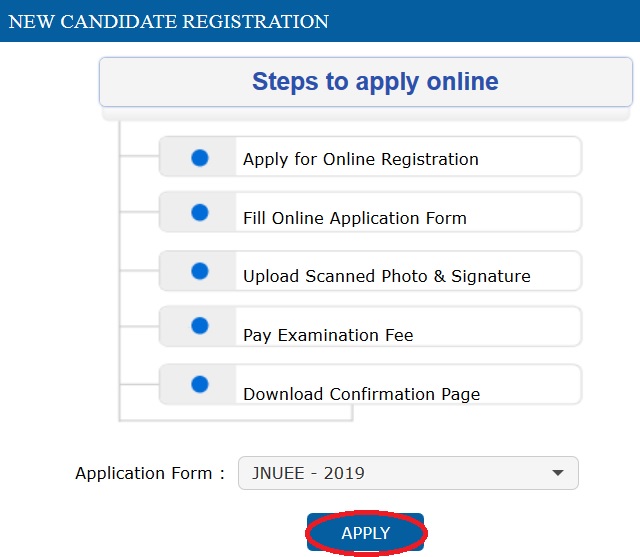 After successful submission of the personal details, Application number will be generated and it will be used to complete the remaining Steps of the Application Form and will also be required for all future correspondence.
For subsequent logins, candidate will be able to login directly with the respective system generated Application Number and created Password.
Step 2 :
Complete the Application Form Candidate can login with the system generated Application Number and created Password for completing the Application Form.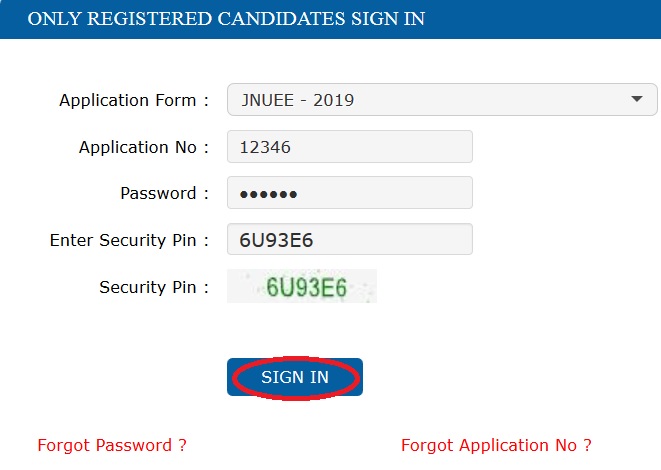 Step 3:
Upload Scanned Images of Candidate Photograph and Candidate Signature
** Scanned photograph and signature should be in JPG/JPEG format.
** Size of scanned photograph should be between 10 kb to 200 kb.
** Size of scanned signature should be between 4 kb to 30 kb.
** The photograph should be coloured or black/white (but clear contrast).
Note : Upload the correct Photograph and Signature as the facility for correction in images will not be given.
Step 4:
Pay Examination Fee by Syndicate Bank Payment Gateway, ICICI Bank Payment Gateway (Net Banking/Debit/Credit Card/e-Challan)
Payment by Debit/Credit Card/Net Banking/e-Challan :
The candidate has to select Debit/Credit Card/Net Banking option to pay the application fee and follow the online instruction to complete the payment of fee. After successful payment, candidate will be able to print the Confirmation Page.
In case the Confirmation Page is not generated after payment of fee then the transaction is cancelled and amount will be refunded to the candidate's account. However the candidate has to make another transaction, in case the Confirmation Page is not generated.
Check List
The candidates are advised to ensure the following points before filling the Online Application Forms
(i) Whether they fulfill the eligibility conditions for the Test as prescribed under the heading 'Conditions of Eligibility' and 'Age Limit'.
(ii) That they have filled their category viz General/OBC (Non-Creamy Layer)/SC/ST/EWS/PwD/ Transgender, in the relevant column correctly.
(iii) That they have filled their Subject and City of examination and code in the relevant column correctly.
(iv) That the Person with Disability (PwD) candidate has filled the relevant column in the Online Application Form. Only PwD candidates have to fill this column and the others have to leave it blank.
(v) Whether they have kept a Printout of Application Form (confirmation page) for their own record.
Examination Fees
The fee (in Indian Rupees) for JNUEE 2019 is as follows
Fee Payable by candidates (JNUEE) in INR
No. of Choices
Ph.D, M.Phil., M.Tech., MPH MA, MSc., MCA, PGDE
BA (Hons.) 1st Year and all part time programmes
Foreign Nationals
General Category
SC/ST/PwD & OBC
BPL
General Category
SC/ST/PwD & OBC
BPL
For 1 Choice
Rs.530/-*
Rs.310/-*
Rs.110/-*
Rs.400/-*
Rs.265/-*
Rs.65/-*
Rs.2520/-*
For 2 Choices
Rs.800/-*
Rs.415/-*
Rs.215/-*
Rs.575/-*
Rs.325/-*
Rs.125/-*
Rs.5400/-*
For 3 Choices
Rs.1000/-*
Rs.500/-*
Rs.300/-*
Rs.750/-*
Rs.380/-*
Rs.180/-*
Rs.7200/-*
Admit Card
The candidate has to download the Admit Card from the NTA website w.e.f. 10 May, 2019 onwards and appear for the Examination at the given Centre on Date and Shift (Timing) as indicated in their Admit Card.
In case candidates are unable to download Admit Cards from the website, the candidate should approach the Help Line between 10:00 am to 5:00 pm from 01 May, 2019 to 17 May, 2019.
Instructions
(i) The candidates, before submitting the Online Application Form, shall ensure their eligibility to appear in the test.
(ii) The Candidates should fill their complete postal address with PIN Code for further correspondence.
(iii) The Candidate must ensure that e-mail address and Mobile Number provided in the Online Application Form are their own (which cannot be changed later) as communication may be sent by NTA through e-mail or SMS.
(iv) The Candidate should not give the postal address, Mobile Number or e-mail ID of Coaching Centre in the Online Application Form.
(v) Online submission of application may be done by accessing the NTA official website www.ntajnu.nic.in.
(vi) Online Application Form cannot be withdrawn once it is submitted successfully.
(vii) Application Form of candidates who do not fulfill the eligibility criteria shall be rejected.
(viii) A candidate is allowed to submit only one Application Form. If a candidate submits more than one Application Form, the candidature is likely to be cancelled.
(ix) Request for change in any particular in the Application Form shall not be entertained under any circumstances.
Note : However, a chance may be given to the candidates to correct/modify/edit some of the particular(s) of the application form online only, during 22 April, 2019 to 28 April, 2019.
(x) The Centres (Cities) indicated for the entrance examination by a candidate is only an option. The actual Centre and shift shall be allotted by NTA and it shall be final.