Panjab University PUCET (UG) Entrance Test 2020 : cetug.puchd.ac.in
You can now ask your questions about this Entrance Exam.
Please go to the bottom of this page.
Organisation : Panjab University, Chandigarh
Exam Name : PUCET (UG) Entrance Test 2020
Applicable For : Seeking admission in B.Sc and B. Pharma
Last Date : August 09, 2020
Website : https://cetug.puchd.ac.in/index.php
PUCHD PUCET Test
Considering the COVID-19 situation, the Panjab University has scrapped the PUCET (UG) entrance test.

For the timely start of the teaching session, the new admission schedule has been formulized, wherein admissions will be based on 10+2 examination result.
Eligibility
The candidates seeking admission in B.Sc. (Hons.) and B. Pharma (other than those who have already applied for the PUCET (UG) entrance test) have to
** Register themselves at PUCET(UG) admission website by August 09, 2020 (Sunday) by submitting their information,
** Deposit the registration fee by August 10, 2020 (Monday),
** Upload the photograph, signature and rest of the information by August 12, 2020 (Wednesday) as per the revised schedule.
All the registered candidates (including those who have applied earlier for the PUCET (UG) entrance test) will be allowed for filling the Admission Form. The Admission form will be available on PU CETUG website from August 14, 2020 onwards.
The candidates who have applied earlier and completed their form for the PUCET (UG) entrance test will automatically considered as registered candidates and are eligible for filling of Admission Form.
How To Apply?
** Register Online https://cetug.puchd.ac.in/registration.php
** Note down your Login Id and Password (login details will be sent to your registered Email Id also).
** Login to your account to pay fee online OR download fee challan.
** For paying through fee challan, take print out of the fee challan and deposit fee at any branch of State Bank of India, minimum one day after printing of fee challan. [last date for submission of fee: August 10, 2020 (Monday)].
** After successful paymnent, complete your form (If fee is paid using fee challan option then login after 24 Hrs. of depositing fee to complete your form).
** Upload scanned passport size photograph, signature, fill other important information and Save and Confirm.
** (Once you confirm the form, you will not be allowed to change information in the form). [last date for completion of registration form: August 12, 2020 (Wednesday)]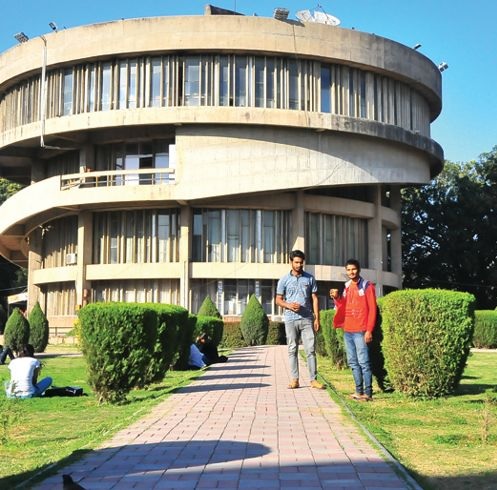 Registration Fee
| | |
| --- | --- |
| General Category [PCB or PCM or M] | Rs. 2175/- |
| SC/ST/PwD Category [PCB or PCM or M] | Rs. 1088/- |
| Additional Paper [Biology or Mathematics] | Rs. 300/- |
Note:
** Fee is non-refundable.
** If more than 24 Hrs. have passed after printing the fee challan and your details are not found in bank for depositing fee, write to cetug@pu.ac.in mentioning your problem along with application no., name and date of birth.
** Online Form once submitted, the candidate shall not be allowed to make any change in it by way of any addition/deletion/alteration/amendment/change under any circumstances.
** Mere login id creation OR deposit of fee does not mean that candidate has completed his/her online form.
** Incomplete form leads to cancellation of candidature. Any request for completion of form after due date will not be entertained at all.
Important Dates
Sr.No.

Activity

Dates

1.
Date of Availability of Prospectus and online Registration Form
March 11, 2020 (Wednesday)
2.
Last date for submission of information on the website to generate the Login & Password
August 09, 2020 (Sunday)
3.
Last date for deposit of fee in any branch of State bank of India using website generated challan
August 10, 2020 (Monday) upto 3:59 p.m.
4.
Last date for deposit of fee through Online mode
August 10, 2020 (Monday)
5.
Last date for uploading of photograph, signature with rest of the information in the registration form on the website
August 12, 2020 (Wednesday)
6.
Date of availability of online Admission Form at https://cetug.puchd.ac.in,

for those registered candidates who have completed the online registration form till August 12, 2020 (Wednesday) after paying requistie fee

August 14, 2020
Contact
E-mail: cetug@pu.ac.in
Telephone No.: Assistant Registrar (C.E.T.): +91 172 253 4829
Main Enquiry Office: +91 172 253 4818, +91 172 253 4819, +91 172 253 4866