MAKAUT JEMAT – II Exam 2022 : Maulana Abul Kalam Azad University Of Technology
Organisation : Maulana Abul Kalam Azad University Of Technology, West Bengal
Exam Name : MAKAUT JEMAT 2022
Exam Date: 31st August 2022
Last Date : JEMAT-II 26th August 2022
Website : https://makautwb.ac.in
Want to comment on this post?

Go to bottom of this page.
What Is MAKAUT JEMAT- II Exam ?
JEMAT BoardConducted by MAKAUT,WB for admission in MBA programmes in West Bengal. Rapid development in global business and its impact on India's domestic market call for a professional approach and sensitivity to international business environment. MBA course help to develop a pool of human resource for trained personnel in the field of international business .The last date of MAKAUT JEMAT – II registration is 25th August 2022 and the last date of MAKAUT JEMAT – II exam is 31st August 2022.
Related / Similar Entrance Exam : MAKAUT CET – II Exam 2022 : Maulana Abul Kalam Azad University Of Technology

Eligibility & Selection Criteria For MAKAUT JEMAT – II Exam
Candidates satisfying the following requirements shall be eligible to appear for MAKAUT JEMAT – II Exam 2022
** The minimum qualification for admission to MBA programmes is a Bachelors degree in Arts/ Science/ Commerce/ Engineering/ Technology /Medical / Dental/ Agriculture or other professional courses from recognized universities.
** The candidates who expect their graduation results by September of a given year may also apply for this examination.
How To Apply For MAKAUT JEMAT – II Exam ?
To apply for MAKAUT JEMAT – II Exam folow the below steps,
Steps :
Step-1 : Go to the link – https://cetmat.formflix.com/jemat/home
Step-2 : Candidates shall have to apply online the which is made available at university website.
Step-3 : Candidate will have to fill the requisite information Online such as Candidate's Name, Gender, Date of Birth, Category, whether Person with Disability,Educational Qualification, E-mail Id, Mobile Number, Communication Address, Declaration, etc.
Step-4 : On submission of Details, Candidate will be prompted to check the filled details and fill/make corrections if any, to SUBMIT his/her final data.
Step-5 : The filled in form should be submitted along with necessary documents and fee.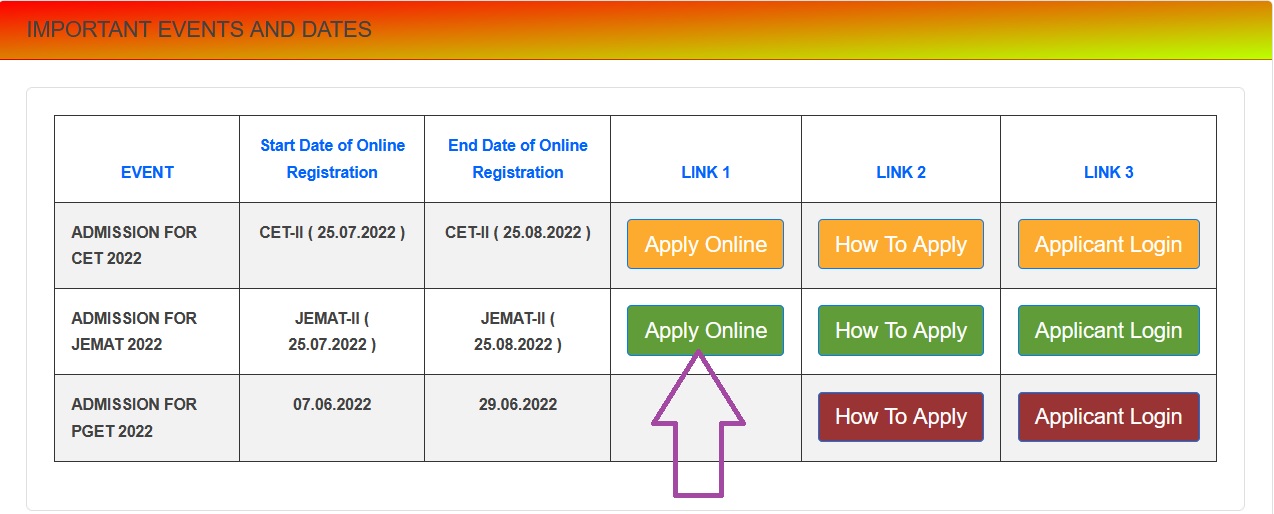 MAKAUT JEMAT – II Exam Form Information
1. Complete online application form
2. Photograph and Signature are to be uploaded as per instructions given on the website.
** A "Guidelines for scanning the Photograph and Signature".
** The image file of photograph and signature should be in .JPG or .JPEG format. There will be 2 separate options for uploading the same.
** Click on the respective link "Upload Photograph and Signature".
3. Recent Stamp size color photograph, preferably with white background, must be used.
** Size of the file for photograph should be between 30kb- 50kb should be uploaded.
4. For Signature, the candidate has to sign on white paper with Blue/Black Ink pen. Size of the file should be between 30kb-50kb.
5. After uploading, Candidates are required to preview the uploaded images see that, his/her uploaded photograph is clearly visible/ identifiable in the appropriate row and the specimen signature is also visible in appropriate space.
6. Submission of Application: The candidate may review all the filled information before clicking on the declaration.If a candidate finds that all the filled information are correct then he/she can select 'declaration' and click on final SUBMIT button given on page, otherwise EDIT the information filled by him/her.
7. After initial apply online an application/ registration number will be generated by the system and the application number along with the password shall be sent to the applicant.an email id / sms will also be sent to mobile number mentioned in the application.
** Applicant has to retain this number and password for future references.
8. Application Fee: As stated in the brochure,payable thru online payment gateway only
9. The applicant has to furnish a declaration to the effect that the inputs furnished by him/her are true, complete and correct to the best of his / her knowledge and they will be supported by the original documents / testimonials as and when required/demanded.
** If any false/incorrect information found / detected at any stage, his/her candidature will be summarily rejected / terminated.
** Therefore it is mandatory for the applicant to tick the check box about this declaration at the end of the application form, before saving and uploading the application.
10. Steps for filling College Course Choice Preferences
** Click on " Add new Choice " button.
** After selecting " Course " and " College" , click on " Add" Button on the extreme right hand side .
** Follow Step 1 , for adding another preference of Course and College.
** For saving the preferences, tick the check box ( declaration) and then click on "Save Choice" Button
MAKAUT JEMAT – II Application fee
Details of application fee for JEMAT – 2022
** Candidates (General / OBC) : 600/-
** SC / ST / PwD* Category Candidates : 300/-
What Is The Last Date Of MAKAUT JEMAT – II Exam ?
The last date of MAKAUT JEMAT – II registration is 25th August 2022 and the last date of MAKAUT JEMAT – II exam is 31st August 2022.